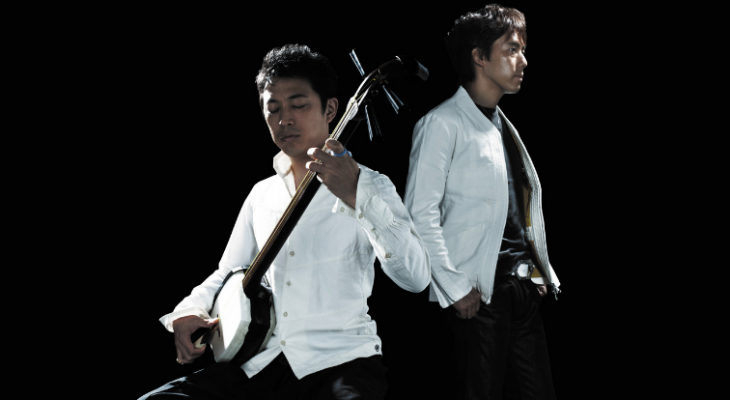 Aug
23
AGA-SHIO, Tsugaru Shamisen & Piano duo, Concert
The Japan Foundation, Toronto presents AGA-SHIO, a Piano and Tsugaru Shamisen duo that blend the passionate energy of Japanese folk music together with contemporary music, creating an entirely new form of Japanese music.
The unit "AGA-SHIO" was formed by Hiromitsu Agatsuma and Satoru Shionoya aiming at fusing eastern and western instruments; Tsugaru Shamisen -a Japanese traditional 3 strings' lute- and piano.
Tickets: $25.00 / JCCC members: $22.00
Place: Japanese Canadian Cultural Centre - 6 Garamond Court, Toronto, ON M3C 1Z5
Tickets online: https://www.ticketweb.ca/event/aga-shio-japanese-canadian-cultural-centre-tickets/9452085
or call JCCC: 416.441.2345
【About the artist】
Hiromitsu Agatsuma (Shamisen Player) began playing the Tsugaru-shamisen at age six. He won in numerous competitions, becoming a renowned performer in the traditional Japanese music scene since his youth. His reputation grew as he incorporated genres such as jazz and rock into his music, and made his major debut in 2001.
Satoru Shionoya (Pianist/Composer/Producer) studied music composition at Tokyo University of the Arts. While he was still a student he started his 10 year career as the pianist of the Japanese salsa band Orquesta De La Luz (1986-1996). The group won the United Nations Peace Medal in 1993 and was a U.S. Grammy Award nominee in 1995. During this time, he performed with Tito Puente, Dave Valentin and Santana.
Those two musicians met in 2004. The music and sound expressed in their first album "AGA-SHIO" (Avex, 2009) are a completely new style of Japan-originated contemporary music which entails strong energy that Japanese folk music produces as well as the consistency performed by piano.
AGA-SHIO has toured not only in Japan but also in Europe and Africa in 2010 (Germany, Czech, Egypt, France, Spain, Congo, South Africa) and in Europe in 2014 (Czech, France, Italy, Germany, Hungary).
【AGA-SHIO Youtube Videos】
Rhapsody > https://www.youtube.com/watch?v=sSxoVwEIVLU
Jonkara > https://www.youtube.com/watch?v=Rf5SHrpG8KQ&feature=youtu.be
Shufflin City > https://www.youtube.com/watch?v=EEKcOwFkb7Y&feature=youtu.be
The Japan Foundation, Toronto
DETAILS
The Japan Foundation, Toronto
(416) 966-1600
2 Bloor Street East
Suite 300
Toronto ON M4W 1A8
Canada
DATE & TIME
-
[ Add to Calendar ]
2019-08-23 23:30:00
2019-08-24 01:00:00
AGA-SHIO, Tsugaru Shamisen & Piano duo, Concert
<p>The Japan Foundation, Toronto presents AGA-SHIO, a Piano and Tsugaru Shamisen duo that blend the passionate energy of Japanese folk music together with contemporary music, creating an entirely new form of Japanese music.</p> <p>The unit "AGA-SHIO" was formed by Hiromitsu Agatsuma and Satoru Shionoya aiming at fusing eastern and western instruments; Tsugaru Shamisen -a Japanese traditional 3 strings' lute- and piano.</p> <p>Tickets: $25.00 / JCCC members: $22.00</p> <p>Place: Japanese Canadian Cultural Centre - 6 Garamond Court, Toronto, ON M3C 1Z5</p>
2 Bloor Street East
Suite 300
Toronto ON M4W 1A8
Canada
Bloor St. Culture Corridor
info@perceptible.com
America/Toronto
public