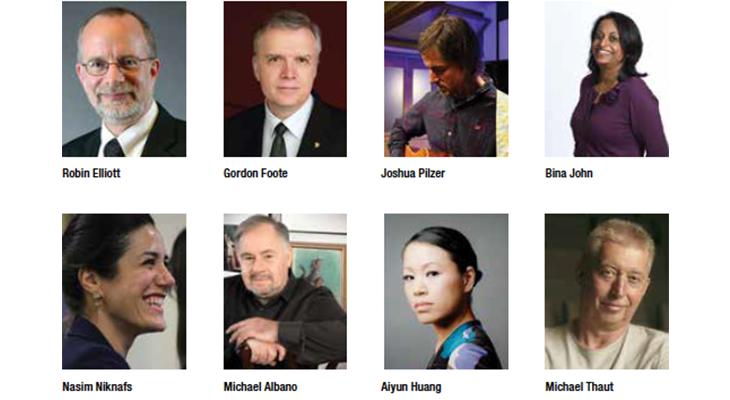 Sep
12
Sound Knowledge Lecture Series
Sound Knowledge 
Have you ever wondered how a jazz piece is held together? About the role music can play in social justice, patriotic fervour, or trauma survival? About the relation between high-level musical performance and rehabilitation? Why the action of that last opera production you saw seemed so incomprehensible? Find the answer to these questions at Sound Knowledge, a new 6-part lecture series by leading members of the Faculty of Music. (Pictured: Professor Robin Elliott presenting Sing me a song of Canada! Sep 12) 
Sound Knowledge is a collaboration between the Faculty of Music and the School of Continuing Studies.
Wednesday evenings from 6 to 7:15pm. Lecture followed by a brief Q & A.
Walter Hall
$100 + HST
Wed Sep 12 - Robin Elliott, Sing me a song of Canada!
Wed Sep 19 - Gordon Foote, What is this Thing Called Jazz? 
Wed Sep 26 - Joshua Pilzer, Music, Traumatic Experience, and Survival: From East to West and Then and Now
Wed Oct 3 - Bina John and Nasim Niknafs, Collaborative Improvisation, Music and Social Justice
Wed Oct 17 - Michael Albano, The Concept Ceiling: Has avant-garde operatic production reached its zenith?
Wed Oct 24 - Aiyun Huang and Michael Thaut, Percussion to Health: Common Performance Mechanisms Underlying the Rationale for Music-Based Motor Rehabilitation
University of Toronto Faculty of Music
DETAILS
University of Toronto Faculty of Music
(416) 978-3750
80 Queen's Park
Edward Johnson Building
Toronto ON M5S 2C5
Canada
DATE & TIME
-
[ Add to Calendar ]
2018-09-12 22:00:00
2018-09-12 23:15:00
Sound Knowledge Lecture Series
<p>Sound Knowledge </p> <p>Have you ever wondered how a jazz piece is held together? About the role music can play in social justice, patriotic fervour, or trauma survival? About the relation between high-level musical performance and rehabilitation? Why the action of that last opera production you saw seemed so incomprehensible? Find the answer to these questions at <em>Sound Knowledge</em>, a new 6-part lecture series by leading members of the Faculty of Music. (Pictured: Professor Robin Elliott presenting <em>Sing me a song of Canada!</em> Sep 12) </p>
80 Queen's Park
Edward Johnson Building
Toronto ON M5S 2C5
Canada
Bloor St. Culture Corridor
info@perceptible.com
America/Toronto
public
-
-
-
-
-
TICKETS