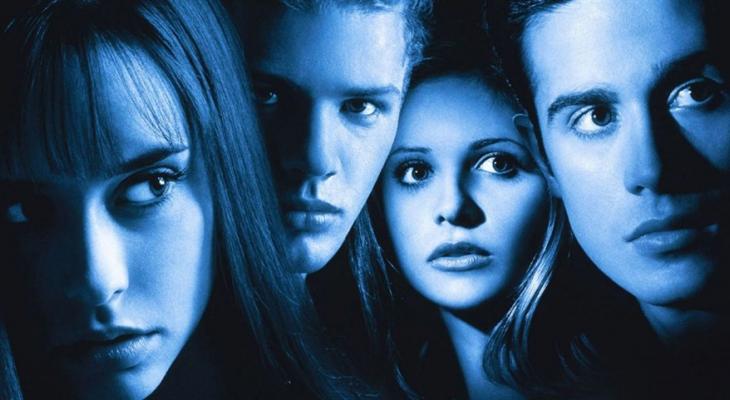 Oct
24
Drunk Feminist Films: I Know What You Did Last Summer
This Halloween, join Drunk Feminist Films for this hard-hitting depiction of the class war between working class fisherfolks and obscenely rich white teenagers. Revisit an iconic entry in the teen slasher canon, starring Jennifer Love Hewitt, Ryan Phillippe, and present-day Republican power couple Freddie Prinze Jr. and Sarah Michelle Gellar. This late '90s horror classic comes fully loaded with the kind of verbose navel-gazing and Feminism Lite™ that can only be provided by a Kevin Williamson script. We don't know or care what you did last summer, but we know what you're doing this October… watching this cinematic nightmare with DFF!
At Drunk Feminist Films, we would rather laugh than cry our way through Hollywood representations of gender, race, sexuality, class and other aspects of identity. Join our hilarious hosts for #hottakes, and a play-along, shout-along movie going experience complete with a feminist drinking game that breaks down everything we love, loathe and find problematic in Hollywood movies.
Gender neutral washrooms accessible on site. Should you require ASL interpretation for the film commentary, please email drunkfeministfilms@gmail.com before October 17.
Ticketholders requiring an accessible seat may email drunkfeministfilms@gmail.com, and we will ensure cinema staff direct your party to your seat upon arrival.
Tickets: $16 (Student & Senior: $13 / Members: $14, $13, $12)
Hot Docs Ted Rogers Cinema
DETAILS
Hot Docs Ted Rogers Cinema
(416) 637-3123
506 Bloor St West
Toronto ON M5S 1Y3
Canada
DATE & TIME
-
[ Add to Calendar ]
2018-10-25 00:30:00
2018-10-25 02:40:00
Drunk Feminist Films: I Know What You Did Last Summer
<p>This Halloween, join Drunk Feminist Films for this hard-hitting depiction of the class war between working class fisherfolks and obscenely rich white teenagers. Revisit an iconic entry in the teen slasher canon, starring Jennifer Love Hewitt, Ryan Phillippe, and present-day Republican power couple Freddie Prinze Jr. and Sarah Michelle Gellar. This late '90s horror classic comes fully loaded with the kind of verbose navel-gazing and Feminism Lite™ that can only be provided by a Kevin Williamson script.</p>
506 Bloor St West
Toronto ON M5S 1Y3
Canada
Bloor St. Culture Corridor
info@perceptible.com
America/Toronto
public
TICKETS