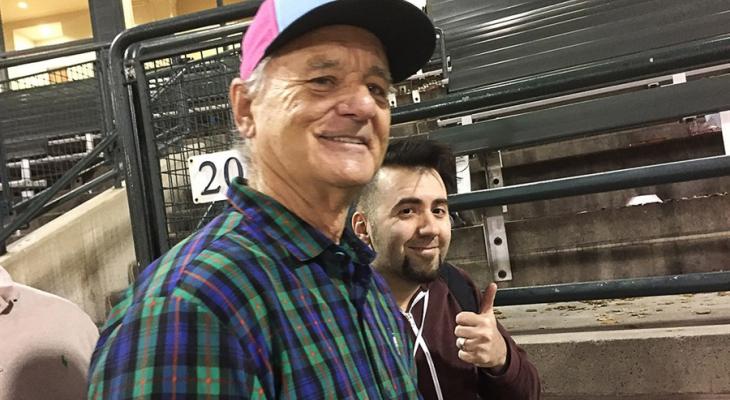 Oct
09
Member Screening: The Bill Murray Stories: Life Lessons Learned from a Mythical Man
After a buzzed-about premiere at Hot Docs 2018, Hot Docs is giving members an exclusive sneak peek at the drop-dead-funny Bill Murray doc before its theatrical release in November!?
"Bill Murray crashed my karaoke session." "Bill Murray photobombed our engagement pictures." Reports of the comedy icon spontaneously interacting with complete strangers are legion—but why would someone so famously averse to publicity create scores of moments guaranteed to be instantly and wildly public? Join filmmaker Tommy Avallone on a laugh-out-loud detective quest to discover which "Bill Murray stories" are true and, more to the point, what's in it for the mythical man himself. This whimsical investigation is an inspiring reminder for everyone, whether famous or perfectly average: all we have is the fantastically strange and fleeting now.
Tickets: FREE for members (one per Bronze member, two per Silver member, and three per Gold member). One additional $8 ticket can be purchased. Become a member.
Hot Docs Ted Rogers Cinema
DETAILS
Hot Docs Ted Rogers Cinema
(416) 637-3123
506 Bloor St West
Toronto ON M5S 1Y3
Canada
DATE & TIME
-
[ Add to Calendar ]
2018-10-09 22:30:00
2018-10-09 23:40:00
Member Screening: The Bill Murray Stories: Life Lessons Learned from a Mythical Man
<p><strong>After a buzzed-about premiere at Hot Docs 2018, Hot Docs is giving members an exclusive sneak peek at the drop-dead-funny Bill Murray doc before its theatrical release in November!?</strong></p>
506 Bloor St West
Toronto ON M5S 1Y3
Canada
Bloor St. Culture Corridor
info@perceptible.com
America/Toronto
public