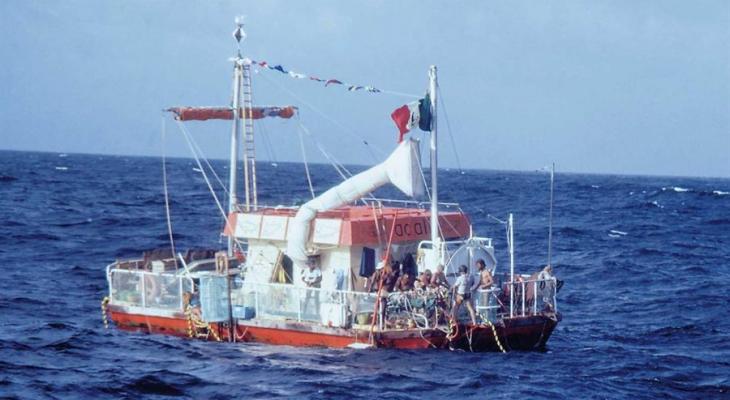 Nov
07
Doc Soup // The Raft
Doc Soup: Hot Docs' monthly screening series that presents Festival hits and award-winning docs.
In the summer of 1973, five men and six women embarked on a 101-day scientific sea-adventure, crossing the Atlantic on a small raft named Acali. It was an experiment initiated by Mexican anthropologist Santiago Genovés, with the aim of exploring the origins of violence and dynamics of sexual attraction. While Genovés referred to the expedition as a "Peace Project," his expectation that the close quarters would result in violent conflicts and sex orgies soon had the media dubbing it "The Sex Raft." Blending 40-year-old archival materials with present-day footage of the surviving Acali Expedition members reuniting aboard a reconstruction of the raft, filmmaker Marcus Lindeen masterfully delves into the true story and the unexpected results of "one of the strangest group experiments of all time."
Stay after the screening for an extended Q&A with a special guest, hosted by award-winning author and journalist Rachel Giese.
Hot Docs Ted Rogers Cinema
DETAILS
Hot Docs Ted Rogers Cinema
(416) 637-3123
506 Bloor St West
Toronto ON M5S 1Y3
Canada
DATE & TIME
-
[ Add to Calendar ]
2018-11-07 23:30:00
2018-11-08 23:45:00
Doc Soup // The Raft
<p><strong>Doc Soup:</strong> <em>Hot Docs' monthly screening series that presents Festival hits and award-winning docs.</em></p>
506 Bloor St West
Toronto ON M5S 1Y3
Canada
Bloor St. Culture Corridor
info@perceptible.com
America/Toronto
public
TICKETS