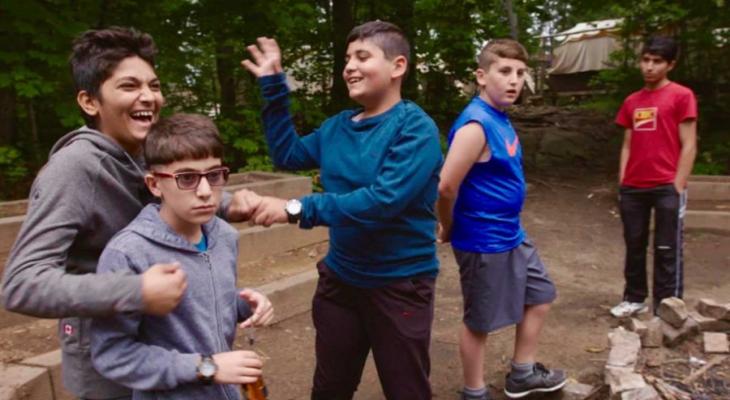 Apr
02
New Homeland // Doc Soup
Every summer since 1914, Camp Pathfinder in Algonquin Park has welcomed boys and young men to spend a few weeks learning to camp, hike, and canoe. Two years ago, enraged by the tragic images from the growing global refugee crisis but inspired by Canada's growing intake of asylum seekers, camp director Mike Sladden had an idea: find a way to bring a group of displaced boys from war-torn Syria and Iraq, who recently settled in Canada, to spend the summer at Pathfinder? If the camp experience could have such a profound effect on generations of boys already, imagine what it would be like for these refugee boys. Following five boys from three families, New Homeland presents a unique and intimate look at the experience of building a new home after fleeing the traumas of war.
Director Barbara Kopple will participate in a post-screening Q&A at all three screenings. Q&As on April 3 and 4 will be hosted by award-winning author and journalist Rachel Giese.
________________________________________________________________________________________
Doc Soup: Hot Docs' monthly screening series that presents Festival hits and award-winning docs.
Hot Docs Ted Rogers Cinema
DETAILS
Hot Docs Ted Rogers Cinema
(416) 637-3123
506 Bloor St West
Toronto ON M5S 1Y3
Canada
DATE & TIME
-
[ Add to Calendar ]
2019-04-02 22:30:00
2019-04-06 18:00:00
New Homeland // Doc Soup
<p>Every summer since 1914, Camp Pathfinder in Algonquin Park has welcomed boys and young men to spend a few weeks learning to camp, hike, and canoe. Two years ago, enraged by the tragic images from the growing global refugee crisis but inspired by Canada's growing intake of asylum seekers, camp director Mike Sladden had an idea: find a way to bring a group of displaced boys from war-torn Syria and Iraq, who recently settled in Canada, to spend the summer at Pathfinder?</p>
506 Bloor St West
Toronto ON M5S 1Y3
Canada
Bloor St. Culture Corridor
info@perceptible.com
America/Toronto
public
TICKETS