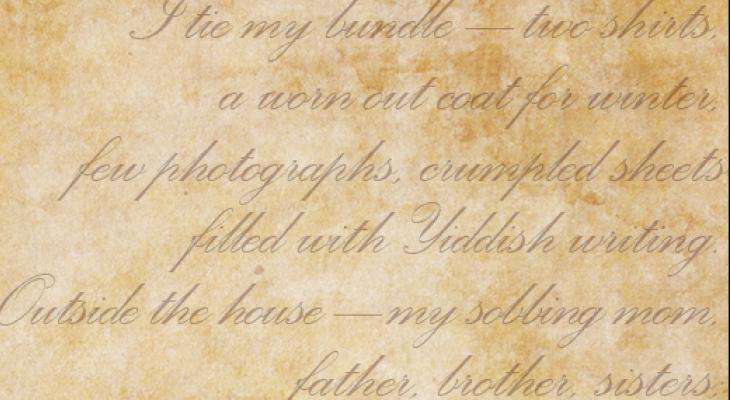 May
16
The Poetry of Simcha Simchovitch
With guest speaker Gerry Kane and musical guest Cantor Sidney Ezer
Join us as we pay tribute to the literary legacy of award-winning Canadian writer Simcha Simchovitch. A prominent Yiddish and English poet, Simcha's writings explored the Holocaust, Israel, social justice and peace. This event will include a lecture, poetry readings in English and Yiddish, and a musical performance. Co-sponsored by the Committee for Yiddish.
Fee: $5 (includes refreshments)
Tickets will be available for in-person sales on the morning of each Thursday program, on a first-come, first-served basis. A percentage of tickets are available for advance online registration for weekly Thursday afternoon programs.
Miles Nadal Jewish Community Centre
DETAILS
Miles Nadal Jewish Community Centre
(416) 924-6211
750 Spadina Ave
Toronto ON M5S 2J2
Canada
DATE & TIME
-
[ Add to Calendar ]
2019-05-16 17:00:00
2019-05-16 19:00:00
The Poetry of Simcha Simchovitch
<p>With guest speaker <strong>Gerry Kane</strong> and musical guest <strong>Cantor Sidney Ezer</strong></p> <p>Join us as we pay tribute to the literary legacy of award-winning Canadian writer Simcha Simchovitch. A prominent Yiddish and English poet, Simcha's writings explored the Holocaust, Israel, social justice and peace. This event will include a lecture, poetry readings in English and Yiddish, and a musical performance. Co-sponsored by the Committee for Yiddish.</p> <p><strong>Fee: $5 (includes refreshments)</strong></p>
750 Spadina Ave
Toronto ON M5S 2J2
Canada
Bloor St. Culture Corridor
info@perceptible.com
America/Toronto
public
TICKETS