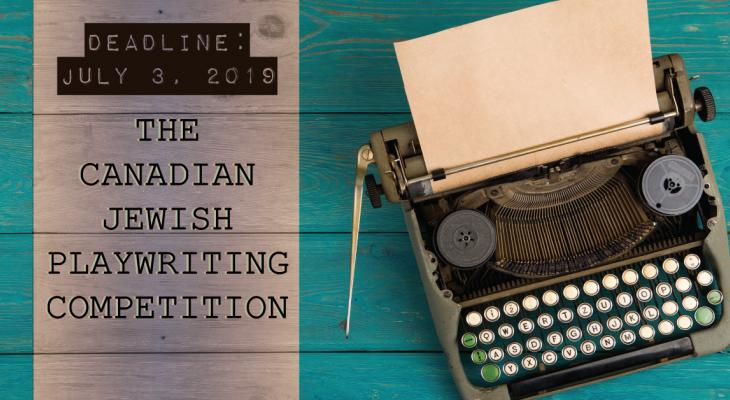 Jul
03
Canadian Jewish Playwriting Competition
Originally a program run by an independent group of dedicated volunteers, The Toronto Jewish Theatre Committee, the Canadian Jewish Playwriting Competition was founded in 1989 and operated out of the Bathurst JCC – in North Toronto.
In 1999, the MNjcc adopted this program and ran it with a group of jurors from the professional theatre community. Before 2006 there was an average of six plays submitted each year. With more publicity and exposure, up to 20 plays are submitted from six Canadian provinces, the United States and Israel each year. Program and presenting partners of the Canadian Jewish Playwriting Competition 2019 are The Harold Green Jewish Theatre (Ontario), The Segal Centre for the Performing Arts (Quebec), The Winnipeg Jewish Theatre (Manitoba), The Calgary JCC (Albert) and The Vancouver JCC (British Columbia).
The submission deadline this year is July 3. The winning playwright will receive $1000 and a professional play reading!
Check out our website for the details. 
Note: You do not have to be Jewish to apply! 
Miles Nadal Jewish Community Centre
DETAILS
Miles Nadal Jewish Community Centre
(416) 924-6211
750 Spadina Ave
Toronto ON M5S 2J2
Canada
DATE & TIME
-
[ Add to Calendar ]
2019-07-03 04:00:00
2019-07-04 03:59:00
Canadian Jewish Playwriting Competition
<p>Originally a program run by an independent group of dedicated volunteers, The Toronto Jewish Theatre Committee, the Canadian Jewish Playwriting Competition was founded in 1989 and operated out of the Bathurst JCC – in North Toronto.</p>
750 Spadina Ave
Toronto ON M5S 2J2
Canada
Bloor St. Culture Corridor
info@perceptible.com
America/Toronto
public