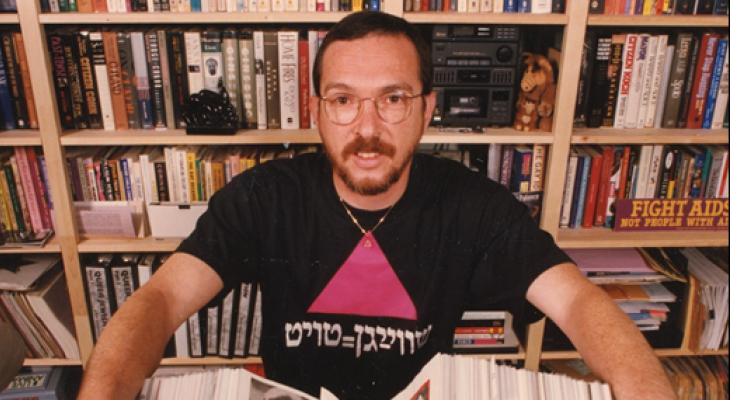 Jul
04
Twice Blessed
A Toronto Jewish Queer Community in the 1980s and 1990s through the Collections of Johnny Abush
At a time of bathhouse raids and discrimination against LGBTQ+ people in Toronto, queer Jews struggled to find a place within the Jewish community. In his quest to reconcile multiple facets of his identity as a gay Jewish man, Johnny Abush documented and celebrated his communities, creating a vast collection of photos, books, articles, notes, letters, and ephemera, that he titled the Twice Blessed archive. This exhibit showcases a fragment of his exploration and advocacy work and offers us a glimpse into the life of the amateur archivist. Through looking back at his work and the work and activities of the groups he was involved with, we aim to celebrate those who worked to create a safe community for others, and to honour their place in history.
This is the first of a planned series of exhibits exploring queer Jewish histories in Toronto.
RSVP to the opening reception by emailing deannad@mnjcc.org. ASL interpretation will be available at the reception.
Curators: Lo Humeniuk, Canadian Gay and Lesbian ArQuives Liv Mendelsohn, Director of Accessibility and Inclusion, Miles Nadal JCC
Thank you to: Raegan Swanson, Executive Director, Canadian Gay and Lesbian ArQuives Michael Friesen, Archivist, Ontario Jewish Archives Deanna Di Lello, Curator, Gallery at the J And to Justice Harvey P. Brownstone, Howard Levine, and Rabbi Aviva Goldberg, for sharing your materials and recollections.
Miles Nadal Jewish Community Centre
DETAILS
Miles Nadal Jewish Community Centre
(416) 924-6211
750 Spadina Ave
Toronto ON M5S 2J2
Canada
DATE & TIME
-
[ Add to Calendar ]
2019-07-04 13:00:00
2019-08-06 02:00:00
Twice Blessed
<p><strong>A Toronto Jewish Queer Community in the 1980s and 1990s through the Collections of Johnny Abush</strong></p>
750 Spadina Ave
Toronto ON M5S 2J2
Canada
Bloor St. Culture Corridor
info@perceptible.com
America/Toronto
public