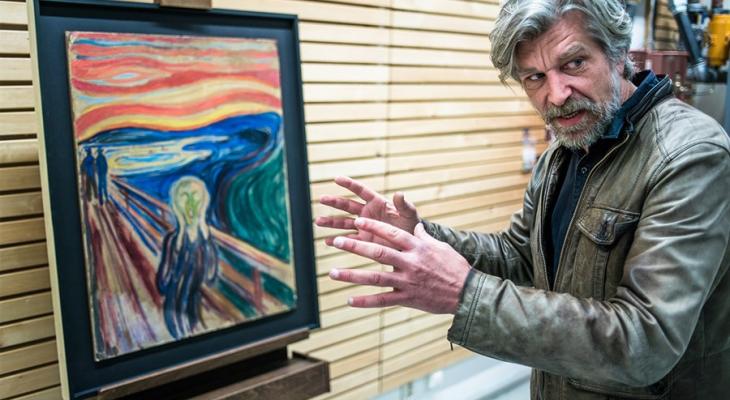 Sep
08
The Art of Museums - Munch Museum & Rijksmuseum
Back by popular demand after a Doc Soup Sundays premiere!
Travel from Vienna to Madrid, Florence to Oslo, Berlin and beyond in this exclusive ARTE docu series that spotlights eight world-renowned museums and their masterpieces. Every year, millions of visitors queue to view the treasures that hang on gallery walls—like the stunning Rembrandts in the iconic Rijksmuseum and the famous Manets and Monets at the treasured Musée d'Orsay. Featuring appearances from Vivienne Westwood, Marina Abramovic, Norman Foster, Karl Ove Knausgaard, and more, discover new ways of seeing as the power of art is articulated in fresh, unexpected ways.
Episode 5 – Munch Museum (Oslo)
Bestselling author Karl Ove Knausgård talks about the Munch's 'The Scream', 'The Sun', 'Death in the Sick Room'.
Episode 6 – Rijksmuseum (Amsterdam)
Photographer Erwin Olaf encounters Rembrandt's 'The Night's Watch', Vermeer's 'Woman Reading a Letter', 'The Threatened Swan' by Asselijn.
Hot Docs Ted Rogers Cinema
DETAILS
Hot Docs Ted Rogers Cinema
(416) 637-3123
506 Bloor St West
Toronto ON M5S 1Y3
Canada
DATE & TIME
-
[ Add to Calendar ]
2019-09-08 16:30:00
2019-09-13 17:00:00
The Art of Museums - Munch Museum & Rijksmuseum
<p>Back by popular demand after a Doc Soup Sundays premiere!</p>
506 Bloor St West
Toronto ON M5S 1Y3
Canada
Bloor St. Culture Corridor
info@perceptible.com
America/Toronto
public
TICKETS