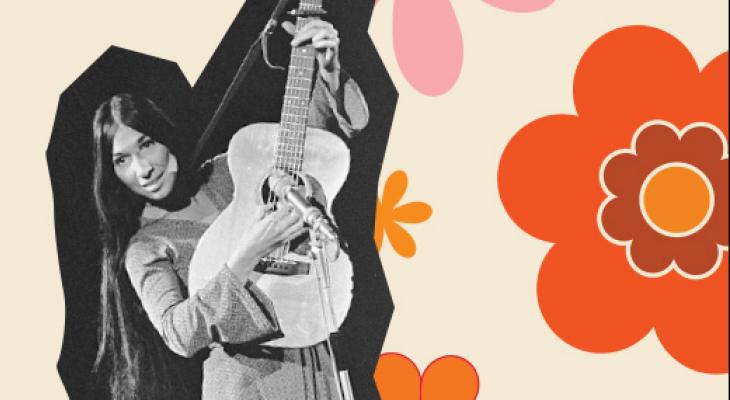 Sep
19
Legendary Ladies of Folk: Joan, Joni & Buffy
A tribute concert featuring popular folk singing duo Sue & Dwight
Singer-songwriters Joan Baez, Buffy St Marie and Joni Mitchell were three of the leading musician-activists of the 1960s. All showed remarkable range as vocalists and proved that music could have a powerful impact as an instrument of socio-political change. These remarkable female musicians created harmonious legacies of tolerance and peace. 
Admission: $5/program
Advance tickets are available for each program on our website or at our Information Desk. A limited number of tickets per program will be available for in-person sales the morning of each program, on a first-come, first-served basis.
Born too late to be part of the 1960's folk revival, songwriters Sue and Dwight write songs that embody the musical spirit of that time. Their songs about the prairies, life in the big city, and travels in East Africa impart human stories of peace, courage, and social justice. Fixtures on the Ontario music scene and subway buskers to boot, Sue and Dwight's unique Canadiana sound features passionate vocals and warm harmonies on a bed of acoustic guitars with a touch of the accordion. The duo has released three CDs: For A Moment; When They Came for the Others, which calls out xenophobia; and A Good Life, which comments on the compassion of medical assistance in dying. The duo has also created Canada's only tribute to the 60's folk revival  'Where Have All the Folk Songs Gone?', now in its 7th year. www.sueanddwight.com. At the Miles Nadal JCC, Sue & Dwight have performed the sold-out tribute concerts "Leonard Cohen & Bob Dylan: The Two Jewish Folk Poets" and "The Greatest Hits of Peter, Paul and Mary". 
Miles Nadal Jewish Community Centre
DETAILS
Miles Nadal Jewish Community Centre
(416) 924-6211
750 Spadina Ave
Toronto ON M5S 2J2
Canada
DATE & TIME
-
[ Add to Calendar ]
2019-09-19 17:00:00
2019-09-19 19:00:00
Legendary Ladies of Folk: Joan, Joni & Buffy
<p>A tribute concert featuring popular folk singing duo <strong>Sue &amp; Dwight</strong></p> <p>Singer-songwriters Joan Baez, Buffy St Marie and Joni Mitchell were three of the leading musician-activists of the 1960s. All showed remarkable range as vocalists and proved that music could have a powerful impact as an instrument of socio-political change. These remarkable female musicians created harmonious legacies of tolerance and peace. </p> <p><strong>Admission: $5/program</strong></p>
750 Spadina Ave
Toronto ON M5S 2J2
Canada
Bloor St. Culture Corridor
info@perceptible.com
America/Toronto
public
TICKETS