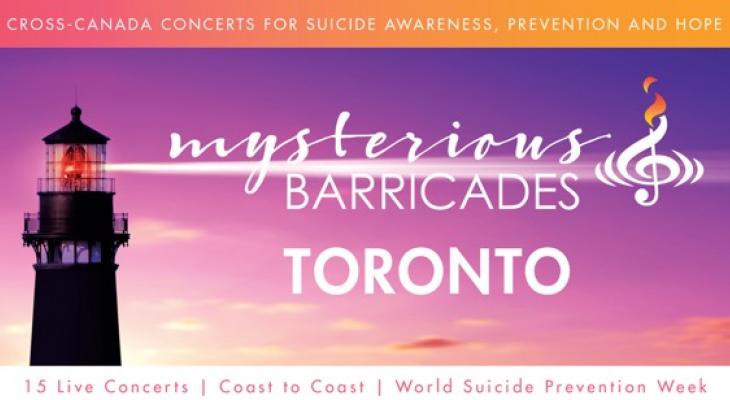 Sep
14
Mysterious Barricades
Mysterious Barricades, the fourth annual Canada-wide concert for World Suicide Prevention Day includes performances by Faculty of Music artists and friends including: Russell Braun, baritone • Norine Burgess, mezzo-soprano • Judy Loman, harp • Carolyn Maule, piano • Nathalie Paulin, soprano • Turkwaz (Jayne Brown, Sophia Grigoriadis, Maryem Tollar) • Monica Whicher, soprano and host • Jialiang Zhu, piano • The Mysterious Barricades Toronto Chorale, with Yvonne Choi, conducted by Tracy Wong • Guest Speaker: Dr. Andrea Levinson.
Toronto portion of the event takes place at 1 pm in Walter Hall, 80 Queen's Park.
Free admission and open to the public.
The 15 coast to coast concerts will be streamed on Saturday, September 14 as one day-long concert event that begins at sunrise in St. John's, and follows the sun across Canada to end at sunset in Victoria. As with all the live concerts, the video stream is free to enjoy, and will be available for viewing on this website until Sept. 21.
Visit mysteriousbarricades.org for details.
University of Toronto Faculty of Music
DETAILS
University of Toronto Faculty of Music
(416) 978-3750
80 Queen's Park
Edward Johnson Building
Toronto ON M5S 2C5
Canada
DATE & TIME
-
[ Add to Calendar ]
2019-09-14 17:00:00
2019-09-14 18:00:00
Mysterious Barricades
<p>Mysterious Barricades, the fourth annual Canada-wide concert for World Suicide Prevention Day includes performances by Faculty of Music artists and friends including: Russell Braun, baritone • Norine Burgess, mezzo-soprano • Judy Loman, harp • Carolyn Maule, piano • Nathalie Paulin, soprano • Turkwaz (Jayne Brown, Sophia Grigoriadis, Maryem Tollar) • Monica Whicher, soprano and host • Jialiang Zhu, piano • The Mysterious Barricades Toronto Chorale, with Yvonne Choi, conducted by Tracy Wong • Guest Speaker: Dr. Andrea Levinson.</p>
80 Queen's Park
Edward Johnson Building
Toronto ON M5S 2C5
Canada
Bloor St. Culture Corridor
info@perceptible.com
America/Toronto
public