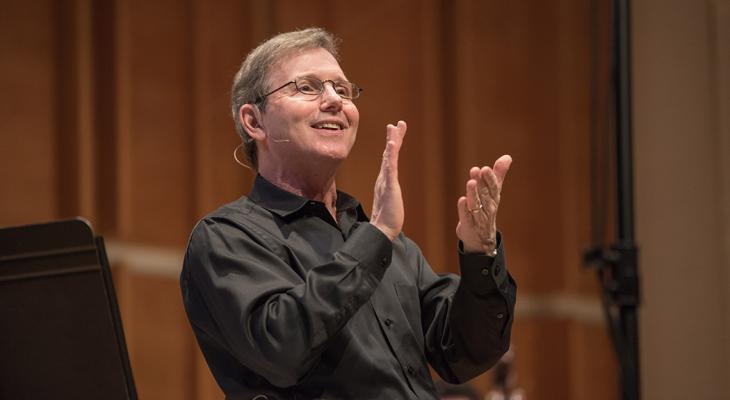 Sep
28
What Makes It Great?®: Beethoven Symphony No. 7
What Makes It Great?®: Beethoven Symphony No. 7 
Conductor Rob Kapilow, Wilma and Clifford Smith Visitor in Music, presents Beethoven's Symphony No. 7 with the U of T Symphony Orchestra.
7:30 pm in MacMillan Theatre, 80 Queen's Park
$40, $25 senior, $10 student U of T students admitted free with a valid TCard, space permitting. BUY TICKETS ONLINE or call 416-408-0208 (This concert is one of three What Makes It Great?® events in the 2019-20 season. See November 13 and February 11 events for details.)
What Makes It Great?® For over 20 years, Rob Kapilow has brought the joy and wonder of classical music – and unravelled some of its mysteries – to audiences of all ages and backgrounds. Characterized by his unique ability to create an "aha" moment for his audiences and collaborators, whatever their level of musical sophistication or naiveté, Kapilow's work brings music into people's lives: opening new ears to musical experiences and helping people to listen actively rather than just hear.
University of Toronto Faculty of Music
DETAILS
University of Toronto Faculty of Music
(416) 978-3750
80 Queen's Park
Edward Johnson Building
Toronto ON M5S 2C5
Canada
DATE & TIME
-
[ Add to Calendar ]
2019-09-28 23:30:00
2019-09-29 02:00:00
What Makes It Great?®: Beethoven Symphony No. 7
<p>What Makes It Great?®: Beethoven Symphony No. 7 </p> <p>Conductor Rob Kapilow, Wilma and Clifford Smith Visitor in Music, presents Beethoven's Symphony No. 7 with the U of T Symphony Orchestra.</p> <p>7:30 pm in MacMillan Theatre, 80 Queen's Park</p> <p>$40, $25 senior, $10 student U of T students admitted free with a valid TCard, space permitting. BUY TICKETS ONLINE or call 416-408-0208 (This concert is one of three What Makes It Great?® events in the 2019-20 season. See November 13 and February 11 events for details.)</p>
80 Queen's Park
Edward Johnson Building
Toronto ON M5S 2C5
Canada
Bloor St. Culture Corridor
info@perceptible.com
America/Toronto
public