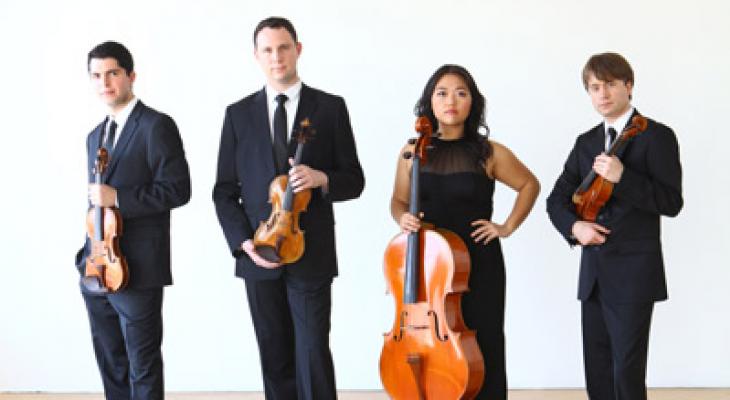 Oct
02
Calidore String Quartet
The Calidore String Quartet, violinists Jeffrey Myers and Ryan Meehan, violist Jeremy Berry and cellist Estelle Choi, perform Ludwig van Beethoven string quartets Op. 74 (Harp), Op. 18 No. 2, and Op. 131.
7:30 pm in Walter Hall, 80 Queen's Park
$40, $25 senior, $10 student U of T students admitted free with a valid TCard, space permitting. BUY TICKETS ONLINE or call 416-408-0208
The Calidore String Quartet is the James D. Stewart Quartet-in-Residence.
University of Toronto Faculty of Music
DETAILS
University of Toronto Faculty of Music
(416) 978-3750
80 Queen's Park
Edward Johnson Building
Toronto ON M5S 2C5
Canada
DATE & TIME
-
[ Add to Calendar ]
2019-10-02 23:30:00
2019-10-03 01:00:00
Calidore String Quartet
<p>The <a href="https://www.calidorestringquartet.com/">Calidore String Quartet</a>, violinists Jeffrey Myers and Ryan Meehan, violist Jeremy Berry and cellist Estelle Choi, perform Ludwig van Beethoven string quartets Op. 74 (Harp), Op. 18 No. 2, and Op. 131.</p> <p>7:30 pm in Walter Hall, 80 Queen's Park</p> <p>$40, $25 senior, $10 student U of T students admitted free with a valid TCard, space permitting. <a href="https://www.rcmusic.com/events-and-performances/u-of-t-presents-calidore-string-quartet">BUY TICKETS ONLINE</a> or call 416-408-0208</p>
80 Queen's Park
Edward Johnson Building
Toronto ON M5S 2C5
Canada
Bloor St. Culture Corridor
info@perceptible.com
America/Toronto
public