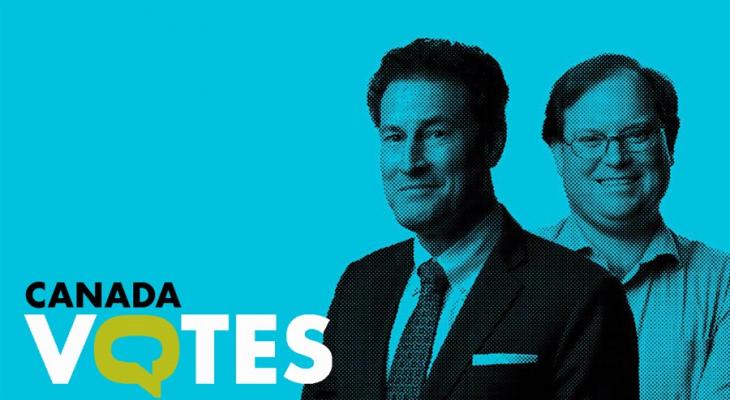 Oct
06
Canada Votes 2019: Steve Paikin Presents: An #onpoli Election Primer
As Canada gears up for a hard-fought federal election campaign this October, join the veteran TVO broadcaster Steve Paikin and co-host John Michael McGrath for the first-ever live edition of their wildly popular #onpoli podcast. Through candid onstage interviews with special guests, they'll break down what's at stake for Canadians in this deeply consequential election. Can Trudeau's Liberals hold onto power? How will the Conservatives fare in the hotly contested 905? Will Jagmeet Singh's NDP finally blaze a path to 24 Sussex? Explore what's at stake in this Federal election as Steve and John Michael offer a lively breakdown of the unfolding campaign and provide us with the information we need to make our votes count this October.
-------------------------------------------------------------------------------------------
Canada Votes 2019: Before heading to polls this fall, join us for a series of events that will help you make sense of the issues, get better acquainted with the stakes, and give you a chance to participate in a productive conversation about the 2019 elections and the future of our nation.
Hot Docs Ted Rogers Cinema
DETAILS
Hot Docs Ted Rogers Cinema
(416) 637-3123
506 Bloor St West
Toronto ON M5S 1Y3
Canada
DATE & TIME
-
[ Add to Calendar ]
2019-10-06 17:00:00
2019-10-06 19:10:00
Canada Votes 2019: Steve Paikin Presents: An #onpoli Election Primer
<p>As Canada gears up for a hard-fought federal election campaign this October, join the veteran TVO broadcaster Steve Paikin and co-host John Michael McGrath for the first-ever live edition of their wildly popular <a href="https://www.facebook.com/hashtag/onpoli" target="_blank">#onpoli</a> podcast. Through candid onstage interviews with special guests, they'll break down what's at stake for Canadians in this deeply consequential election. Can Trudeau's Liberals hold onto power? How will the Conservatives fare in the hotly contested 905?</p>
506 Bloor St West
Toronto ON M5S 1Y3
Canada
Bloor St. Culture Corridor
info@perceptible.com
America/Toronto
public
TICKETS