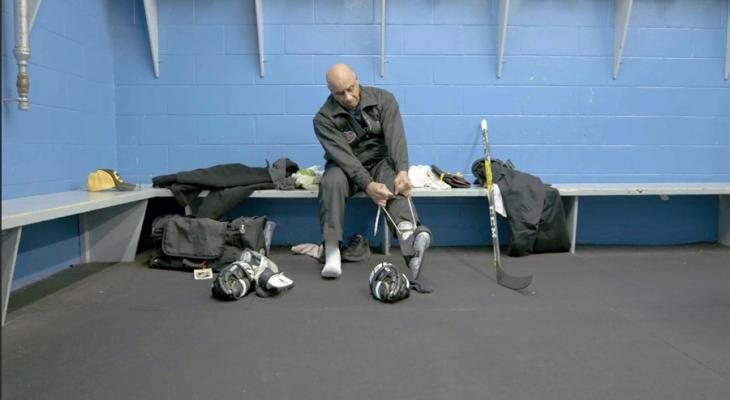 Oct
15
Willie // Hot Docs for Continuing Professional Education
The Making of a Corporate Athlete or How Courage and Resilience Transcend the Sport
About the film In a country filled with hockey heroes, Willie O'Ree stands amongst the greats. In 1958, he broke the colour barrier, becoming the first Black player in the National Hockey League. Sixty years later, his induction into the Hockey Hall of Fame made history again. The youngest of 13 children and a descendant of escaped slaves, O'Ree rose from humble beginnings in Fredericton, New Brunswick, to a 22-year pro hockey career that intersected with the civil rights movement. His talent on the ice was only a fraction of his impact on the game; in 1998, he became the NHL's diversity ambassador, with a focus on creating opportunities for kids who never had a chance to lace up a pair of skates. In Willie, everyone from his oldest friends to a new generation of players come together to honour a man dedicated to improving the world through a sport he loves. Alexander Rogalski, Hot Docs
Followed by an expert panel discussion about the "making of a corporate athlete," or how professionals can increase their resilience and mental focus on leadership and wellness-work-life balance based on the principles used by high-performer athletes.
Welcome remarks by:
Lori Anne Thomas (LLB), President of the Canadian Association of Black Lawyers (CABL)
Stéphane A. MonPremier (B.A., LL.B), President of the Ottawa chapter of the Canadian Association of Black Lawyers (CABL)
Speakers:
Garrick Apollon (LLB, JD, LLM, LLCM), Lawyer; Adjunct Professor, University of Ottawa; Member, Academy for Mindfulness and Contemplative Studies at the Brain and Mind Research Institute, University of Ottawa
Alison Crosthwait, CFA, RP, CTP, Dipl, Registered Psychotherapist, Author and Blogger
Orlando Da Silva, Lawyer, Bencher with the Law Society of Ontario
Jill Perry, Coach, Boxing Canada
This program contains 1 hour and 30 minutes of Professionalism Content and 1 hour of EDI Professionalism Content accredited by the Law Society of Ontario. It is also eligible towards other professionals' CPD requirements such as lawyers from other Canadian provinces, accountants (CPA), investment professionals (CFA) and other business professionals. Please refer to your professional organization's website to ensure participation in this activity will fulfill your CPD requirements.
More about accreditation & speakers: https://bit.ly/2LXQfl4
Program presented in partnership with UDocs
-------------------------------------------------------------------------------------------
Hot Docs for Continuing Professional Education: Earn CPE/CPD credits with documentary case studies and panel discussions with leading experts, scholars and practioners.
Hot Docs Ted Rogers Cinema
DETAILS
Hot Docs Ted Rogers Cinema
(416) 637-3123
506 Bloor St West
Toronto ON M5S 1Y3
Canada
DATE & TIME
-
[ Add to Calendar ]
2019-10-15 22:30:00
2019-10-16 03:00:00
Willie // Hot Docs for Continuing Professional Education
<p>The Making of a Corporate Athlete or How Courage and Resilience Transcend the Sport</p>
506 Bloor St West
Toronto ON M5S 1Y3
Canada
Bloor St. Culture Corridor
info@perceptible.com
America/Toronto
public
TICKETS