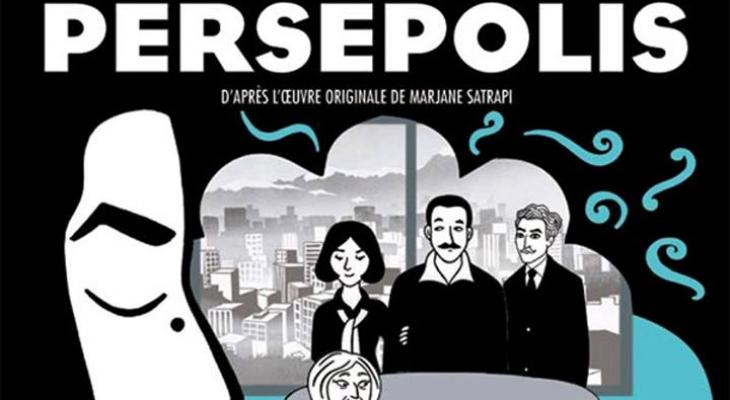 Nov
14
Movie Thursday | Persepolis
[ Persepolis ] VO sous-titré anglais
🎬 Film de Marjane Satrapi et Vincent Paronnaud. 2007. 1h35 Téhéran 1978 : Marjane, 8 ans, songe à l'avenir et se rêve en prophète sauvant le monde. Choyée par des parents modernes et cultivés, particulièrement liée à sa grand-mère, elle suit avec exaltation les évènements qui vont mener à la révolution et provoquer la chute du régime du Chah. Avec l'instauration de la République islamique débute le temps des "commissaires de la révolution" qui contrôlent tenues et comportements. Marjane qui doit porter le voile, se rêve désormais en révolutionnaire. La répression intérieure devient chaque jour plus sévère. Dans un contexte de plus en plus pénible, sa langue bien pendue et ses positions rebelles deviennent problématiques. Ses parents décident alors de l'envoyer en Autriche pour la protéger. À Vienne, Marjane vit à quatorze ans sa deuxième révolution : l'adolescence, la liberté, les vertiges de l'amour mais aussi l'exil, la solitude et la différence.  
BANDE ANNONCE : https://bit.ly/2p08DgL
[ Persepolis ] Original version with English subtitles
🎬 Persepolis is the poignant story of a young girl in Iran during the Islamic Revolution. It is through the eyes of precocious and outspoken nine-year-old Marjane that we see a people's hopes dashed as fundamentalists take power, forcing the veil on women and imprisoning thousands. As bombs fall around Tehran in the Iran/Iraq war and Marjane's uncle is senselessly executed, the fear that permeates daily life in Iran is palpable. As she gets older, Marjane's boldness causes her parents ongoing worry for her safety. And so they make the difficult decision to send her, at age fourteen, to school in Austria. Vulnerable and alone in a strange land, she lives her second revolution, experiencing adolescence, freedom and love, but also exile, solitude and difference.
TRAILER : https://bit.ly/1CZkb2G
Alliance Française de Toronto
DETAILS
Alliance Française de Toronto
(416) 922-2014
24 Spadina Road
Toronto ON M5R 2S7
Canada
DATE & TIME
-
[ Add to Calendar ]
2019-11-15 00:30:00
2019-11-15 02:00:00
Movie Thursday | Persepolis
<p><strong>[ Persepolis ] VO sous-titré anglais</strong></p>
24 Spadina Road
Toronto ON M5R 2S7
Canada
Bloor St. Culture Corridor
info@perceptible.com
America/Toronto
public