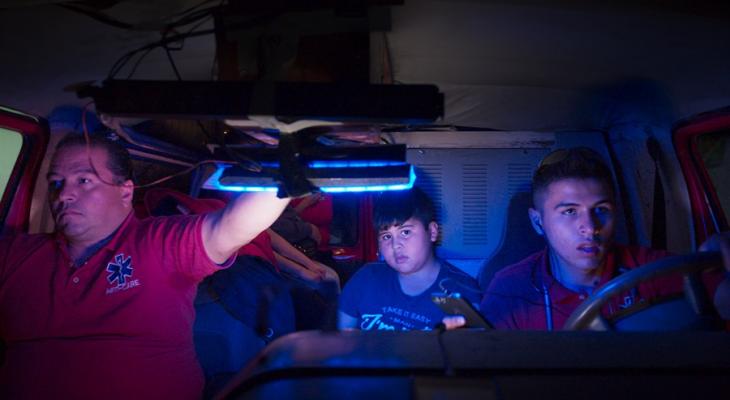 Dec
15
Best of 2019: Midnight Family
With a population of close to nine million, Mexico City has only 45 state-funded ambulances to serve in emergencies. Meet the Ochoa family, who run a for-profit rescue unit to meet the public's needs when the state falls short. Spending their nights scanning radios, The Ochoas race to be the first responders to critically injured patients in the city's wealthiest neighbourhoods—but a sudden escalation in competition and police bribes must force them to reckon with the ethics of their practice. Midnight Family takes you on a thrillingly immersive ride through the streets of Mexico and the shocking realities of a broken health care system.
______________________________________________________
Best of 2019: Here's your last chance to see the 12 docs that kept us buzzing all year – we're capping off the year with trailblazing musicians, seedy politics, true crime, a trashy magazine, and more.
Hot Docs Ted Rogers Cinema
DETAILS
Hot Docs Ted Rogers Cinema
(416) 637-3123
506 Bloor St West
Toronto ON M5S 1Y3
Canada
DATE & TIME
-
[ Add to Calendar ]
2019-12-15 21:15:00
2019-12-19 23:15:00
Best of 2019: Midnight Family
<p>With a population of close to nine million, Mexico City has only 45 state-funded ambulances to serve in emergencies. Meet the Ochoa family, who run a for-profit rescue unit to meet the public's needs when the state falls short. Spending their nights scanning radios, The Ochoas race to be the first responders to critically injured patients in the city's wealthiest neighbourhoods—but a sudden escalation in competition and police bribes must force them to reckon with the ethics of their practice.</p>
506 Bloor St West
Toronto ON M5S 1Y3
Canada
Bloor St. Culture Corridor
info@perceptible.com
America/Toronto
public
TICKETS