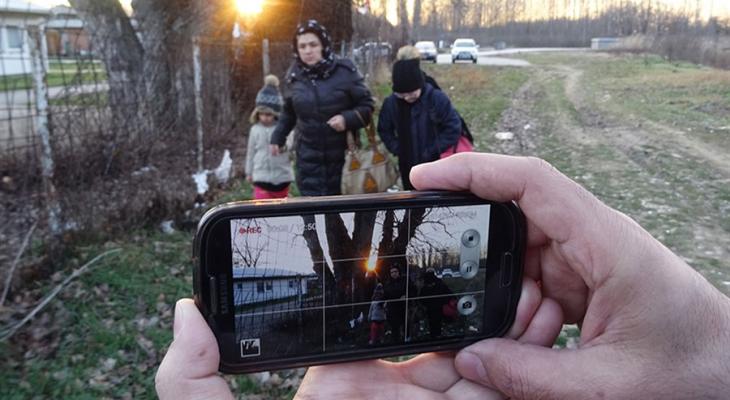 Dec
08
Best of 2019: Midnight Traveler
When the Taliban puts a bounty on Afghan director Hassan Fazili's head, he is forced to flee the country with his wife and two young daughters. Capturing their uncertain journey on his phone's camera, Fazili shows firsthand the dangers facing refugees seeking asylum. This powerful Sundance award-winning doc stitches together the heart-warming intimacy between a husband and wife caught in a dire situation while revealing one of life's great treasures: family belonging. Moving audiences around the world, this miraculous story is the kind of testament to compassion and empathy that validates why we create, present and watch documentary film.
In Arabic, English, Turkish and Bulgarian
______________________________________________________
Best of 2019: Here's your last chance to see the 12 docs that kept us buzzing all year – we're capping off the year with trailblazing musicians, seedy politics, true crime, a trashy magazine, and more.
Hot Docs Ted Rogers Cinema
DETAILS
Hot Docs Ted Rogers Cinema
(416) 637-3123
506 Bloor St West
Toronto ON M5S 1Y3
Canada
DATE & TIME
-
[ Add to Calendar ]
2019-12-08 18:15:00
2019-12-17 21:00:00
Best of 2019: Midnight Traveler
<p>When the Taliban puts a bounty on Afghan director Hassan Fazili's head, he is forced to flee the country with his wife and two young daughters. Capturing their uncertain journey on his phone's camera, Fazili shows firsthand the dangers facing refugees seeking asylum. This powerful Sundance award-winning doc stitches together the heart-warming intimacy between a husband and wife caught in a dire situation while revealing one of life's great treasures: family belonging.</p>
506 Bloor St West
Toronto ON M5S 1Y3
Canada
Bloor St. Culture Corridor
info@perceptible.com
America/Toronto
public
TICKETS