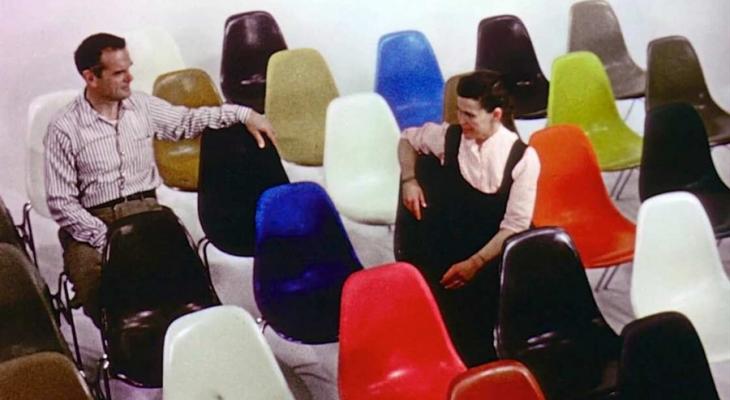 Jan
26
AADFF: Eames: The Architect and The Painter
A husband-and-wife design team unlike anything the world had ever seen, Charles and Ray Eames made monumental contributions to various fields of innovation, from modern architecture, furniture, industrial design, to fine art and more. Working from their Venice Beach warehouse, the Eames knew how to take on seemingly anything thrown their way, creating the most effective and artful solution for any project. Narrated by James Franco, Eames: The Architect and the Painter gives these artists their due, examining a lifetime of achievements as well as their partnership and their profound influence on modern American life.
_____________________________________________________
ART, ARCHITECTURE, DESIGN FILM FESTIVAL (January 22-26)
Celebrate the architects, artists and designers who have shaped our world at Toronto's newest film festival. Featuring special guests and exciting panel discussions.
Presented in partnership with Hot Docs Cinema
Hot Docs Ted Rogers Cinema
DETAILS
Hot Docs Ted Rogers Cinema
(416) 637-3123
506 Bloor St West
Toronto ON M5S 1Y3
Canada
DATE & TIME
-
[ Add to Calendar ]
2020-01-26 23:00:00
2020-01-27 00:39:00
AADFF: Eames: The Architect and The Painter
<p>A husband-and-wife design team unlike anything the world had ever seen, Charles and Ray Eames made monumental contributions to various fields of innovation, from modern architecture, furniture, industrial design, to fine art and more. Working from their Venice Beach warehouse, the Eames knew how to take on seemingly anything thrown their way, creating the most effective and artful solution for any project.</p>
506 Bloor St West
Toronto ON M5S 1Y3
Canada
Bloor St. Culture Corridor
info@perceptible.com
America/Toronto
public
TICKETS