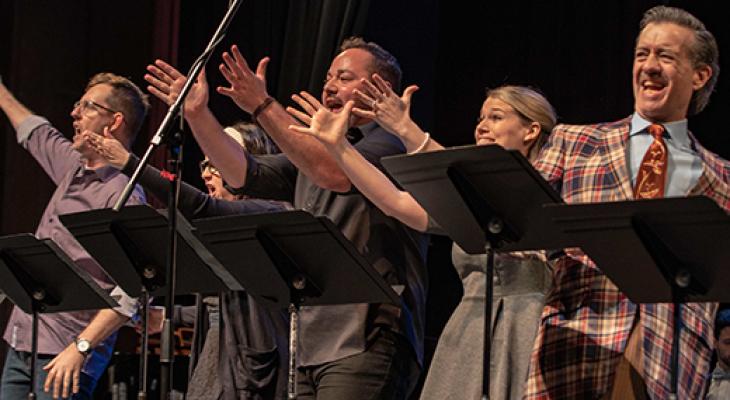 Jan
30
Meet the Artist Event: The House of Martin Guerre (In Concert)
Featuring ensemble members from Toronto Musical Concerts, with special guest Leslie Arden Get a behind-the-scenes sneak peak at award-winning Canadian musical The House of Martin Guerre which will be performed in the Al Green Theatre April 3-4. Enjoy performances from Leslie Arden's emotionally charged score, learn about this production's fascinating history, pedigree and staging, and meet some of the cast members and production team.
Admission: $5
Leslie Arden | Writer & Composer
Leslie Arden is the book writer, lyricist and composer for the critically-acclaimed musical drama, The House of Martin Guerre which was nominated for a Chalmer's Award and was the recipient of three Dora Mavor Moore Awards in Toronto (including Best New Musical), and six Joseph Jefferson Awards in Chicago (including Best New Musical). Widely regarded as one of Canada's foremost musical theatre composers, Leslie has also written and composed The Happy Prince, The Boys Are Coming Home, The Last Resort, Starlight Tours, Moll, the Heard of Avon and It's A Wonderful Life.
Christopher Wilson | Artistic Producer
Selected performance credits include: Stratford Festival, Charlottetown Festival, Drayton Entertainment, and the National Arts Centre. As an arts educator, Christopher currently teaches with the Sheridan College Bachelor of Musical Theatre Program, the Randolph College for the Performing Arts, and the Toronto District School Board. Christopher is the Artistic Producer of Toronto Musical Concerts, having presented: Into The Woods, Assassins, Cocktails & Candy Canes, Company, Merrily We Roll Along, Parade and Urinetown In Concert.
Ryan Kelly | Associate Director
Selected performance credits include: Mamma Mia (Mirvish); The House of Martin Guerre (CanStage); Ross Petty Productions; Drayton Entertainment; and Falsettos (Winnipeg Jewish Theatre). Ryan teaches the Acting Program for George Brown Dance/Ballet Jorgen as well as teaching Master Classes and Acting workshops for youth companies in the GTA. Directing credits include: The Secret Garden (Mainstage Theatre); Once on This Island (Acting Upstage/Stage Door); Downtown Jay (Toronto FringeKids); Two Kittens & A Kid (Edinburgh Fringe); as well as Assistant Directing for TMC's Parade, Merrily We Roll Along, Company, Assassins and Urinetown.
Social media links:
Website, Facebook, Instagram, Twitter 
Miles Nadal Jewish Community Centre
DETAILS
Miles Nadal Jewish Community Centre
(416) 924-6211
750 Spadina Ave
Toronto ON M5S 2J2
Canada
DATE & TIME
-
[ Add to Calendar ]
2020-01-30 18:00:00
2020-01-30 20:30:00
Meet the Artist Event: The House of Martin Guerre (In Concert)
<p><strong>Featuring ensemble members from Toronto Musical Concerts, with special guest Leslie Arden</strong> Get a behind-the-scenes sneak peak at award-winning Canadian musical The House of Martin Guerre which will be performed in the Al Green Theatre April 3-4. Enjoy performances from Leslie Arden's emotionally charged score, learn about this production's fascinating history, pedigree and staging, and meet some of the cast members and production team.</p> <p><strong>Admission: $5</strong></p> <p><strong>Leslie Arden | Writer &amp; Composer</strong></p>
750 Spadina Ave
Toronto ON M5S 2J2
Canada
Bloor St. Culture Corridor
info@perceptible.com
America/Toronto
public
TICKETS