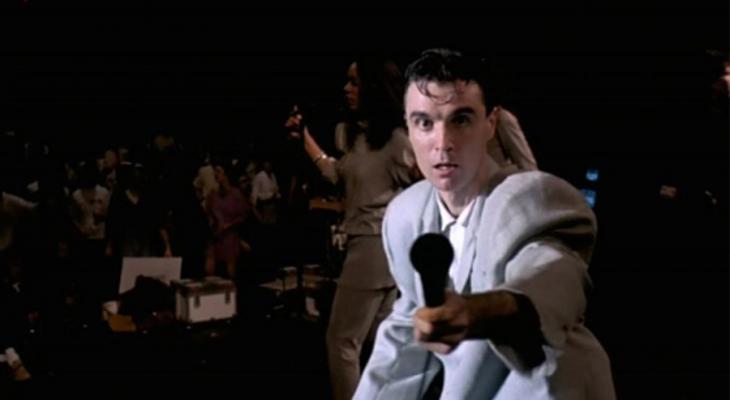 Feb
21
Stop Making Sense // This Film Should Be Played Loud
"Hi. I've got a tape I wanna play." We're dusting off our giant suit and preparing to burn down the house at our annual screening of Jonathan Demme's quintessential concert film. An exhilarating, ahead-of-its time masterpiece shot over three nights in 1984, Stop Making Sense captures the infectious energy, daring theatrics and pure euphoria of the Talking Heads performing at the top of their game. Get ready to dance in the aisles with David Byrne, Tina Weymouth, Jerry Harrison and the rest of the band as we revisit one of the greatest music films of all time.
8:30 PM: Doors Open
9:30 PM: Screening
______________________________________________________
This Film Should Be Played Loud: See new, classic and rare concert films on the big screen.
Hot Docs Ted Rogers Cinema
DETAILS
Hot Docs Ted Rogers Cinema
(416) 637-3123
506 Bloor St West
Toronto ON M5S 1Y3
Canada
DATE & TIME
-
[ Add to Calendar ]
2020-02-22 02:30:00
2020-02-22 04:08:00
Stop Making Sense // This Film Should Be Played Loud
<p>"Hi. I've got a tape I wanna play." We're dusting off our giant suit and preparing to burn down the house at our annual screening of Jonathan Demme's quintessential concert film. An exhilarating, ahead-of-its time masterpiece shot over three nights in 1984, Stop Making Sense captures the infectious energy, daring theatrics and pure euphoria of the Talking Heads performing at the top of their game. Get ready to dance in the aisles with David Byrne, Tina Weymouth, Jerry Harrison and the rest of the band as we revisit one of the greatest music films of all time.</p>
506 Bloor St West
Toronto ON M5S 1Y3
Canada
Bloor St. Culture Corridor
info@perceptible.com
America/Toronto
public
TICKETS