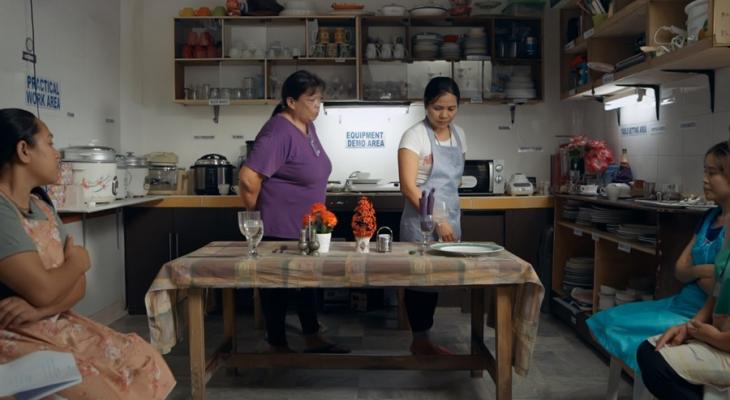 Mar
04
Doc Soup: Overseas
In one of the Philippines's many government-accredited training centres, a group of women prepare to join the ranks of the 10 million Overseas Filipino Workers (OFWs) currently deployed abroad. Through lessons and unsettling role-playing scenarios, they learn to serve at a table, care for infants, and brace themselves for the worst: homesickness, exhaustion, mistreatment and abuse. Astute and empathetic, Overseas brings to light the question of modern servitude in our globalized world, while emphasizing these women's personal stories, determination, sisterhood and the strategies they find to face the unknown.
Followed by a Q&A hosted by award-winning author and journalist Rachel Giese.
______________________________________________________
Doc Soup: Hot Docs' monthly screening series that presents Festival hits and award-winning docs.
Hot Docs Ted Rogers Cinema
DETAILS
Hot Docs Ted Rogers Cinema
(416) 637-3123
506 Bloor St West
Toronto ON M5S 1Y3
Canada
DATE & TIME
-
[ Add to Calendar ]
2020-03-04 23:30:00
2020-03-05 23:45:00
Doc Soup: Overseas
<p>In one of the Philippines's many government-accredited training centres, a group of women prepare to join the ranks of the 10 million Overseas Filipino Workers (OFWs) currently deployed abroad. Through lessons and unsettling role-playing scenarios, they learn to serve at a table, care for infants, and brace themselves for the worst: homesickness, exhaustion, mistreatment and abuse.</p>
506 Bloor St West
Toronto ON M5S 1Y3
Canada
Bloor St. Culture Corridor
info@perceptible.com
America/Toronto
public
TICKETS