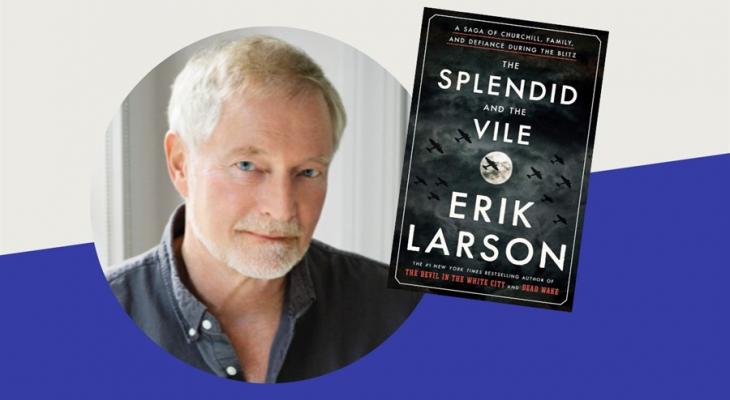 Mar
09
Erik Larson: Winston Churchill and Fearless Political Leadership // Curious Minds Festival
The #1 New York Times bestselling author of The Devil in the White City considers what we can learn from Winston Churchill's leadership at the height of the London Blitz in his captivating new portrait of a 20th century giant.
On Winston Churchill's first day as prime minister, Adolf Hitler invaded Holland and Belgium. Poland and Czechoslovakia had already fallen, and the Dunkirk evacuation was just two weeks away. For the next twelve months, he held his country together in the face of a relentless bombing campaign, teaching the British people "the art of being fearless." The Splendid and the Vile is Erik Larson's remarkable account of this darkest of years, using diaries, original archives, and once-secret intelligence reports to provide a fresh lens on the infamous statesman, his family, and the advisers in his "Secret Circle." With a knack for making history burst to thrilling life, Larson will sit down with one of our foremost political minds, former Federal Liberal Leader and Ontario Premier Bob Rae, to take us out of today's political dysfunction and back to a time of true leadership, when, in the face of unrelenting horror, courage and perseverance bound a country together.
In conversation with Bob Rae, P.C., C.C., O.Ont., Q.C., former Premier of Ontario, and former interim Leader of the Liberal Party of Canada. Working as a lawyer and mediator with a focus on first nations and governance issues, Rae also teaches at the University of Toronto School of Governance and Public Policy and is a widely respected writer and commentator.
Book sale and signing to follow.
******************************************************************************
From March 6 – 11, our annual festival of culture and ideas returns with an expanded weeklong program of inspiring conversations with internationally renowned thinkers, tastemakers and bestselling authors.
Tickets: $26 (Members: $22)
All Access Pass: $159 (Members: $149) https://bit.ly/2OEE6Tl
Hot Docs Ted Rogers Cinema
DETAILS
Hot Docs Ted Rogers Cinema
(416) 637-3123
506 Bloor St West
Toronto ON M5S 1Y3
Canada
DATE & TIME
-
[ Add to Calendar ]
2020-03-09 22:30:00
2020-03-10 00:30:00
Erik Larson: Winston Churchill and Fearless Political Leadership // Curious Minds Festival
<p>The #1 New York Times bestselling author of The Devil in the White City considers what we can learn from Winston Churchill's leadership at the height of the London Blitz in his captivating new portrait of a 20th century giant.</p>
506 Bloor St West
Toronto ON M5S 1Y3
Canada
Bloor St. Culture Corridor
info@perceptible.com
America/Toronto
public
TICKETS