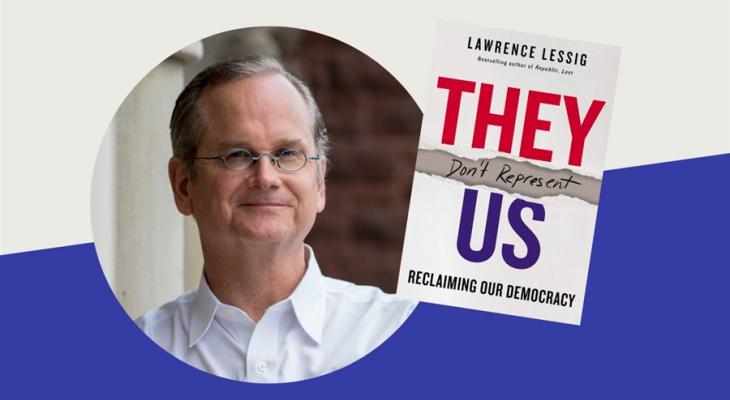 Mar
06
Lawrence Lessig: Reclaiming Our Democracy // Curious Minds Festival
One of the world's leading legal scholars, and a trusted authority on American political institutions, Harvard Law Professor Lawrence Lessig has emerged as an essential voice of dissent in the era of Donald Trump.
In his latest, critically acclaimed book, They Don't Represent Us, Lessig details the crisis at the centre of American and world democracy, as fractured partisanship and ignorance on critical issues drive our leaders to stake out ever more extreme positions. Showing that the blame lies not only with politicians and power brokers, but also with "us"—an increasingly uninformed citizenry—Lessig offers an inspiring vision for how we might create governments that are truly by and for the people, and a timely report on the state of world politics in the lead up to the 2020 election.
In conversation with acclaimed journalist and broadcaster, Anna Maria Tremonti, host of CBC Podcasts' More with Anna Maria Tremonti
Book sale and signing to follow.
******************************************************************************
From March 6 – 11, our annual festival of culture and ideas returns with an expanded weeklong program of inspiring conversations with internationally renowned thinkers, tastemakers and bestselling authors.
Tickets: $26 (Members: $22)
All Access Pass: $159 (Members: $149) https://bit.ly/2GHYzSA
Hot Docs Ted Rogers Cinema
DETAILS
Hot Docs Ted Rogers Cinema
(416) 637-3123
506 Bloor St West
Toronto ON M5S 1Y3
Canada
DATE & TIME
-
[ Add to Calendar ]
2020-03-06 23:30:00
2020-03-07 01:30:00
Lawrence Lessig: Reclaiming Our Democracy // Curious Minds Festival
<p>One of the world's leading legal scholars, and a trusted authority on American political institutions, Harvard Law Professor Lawrence Lessig has emerged as an essential voice of dissent in the era of Donald Trump.</p>
506 Bloor St West
Toronto ON M5S 1Y3
Canada
Bloor St. Culture Corridor
info@perceptible.com
America/Toronto
public
TICKETS