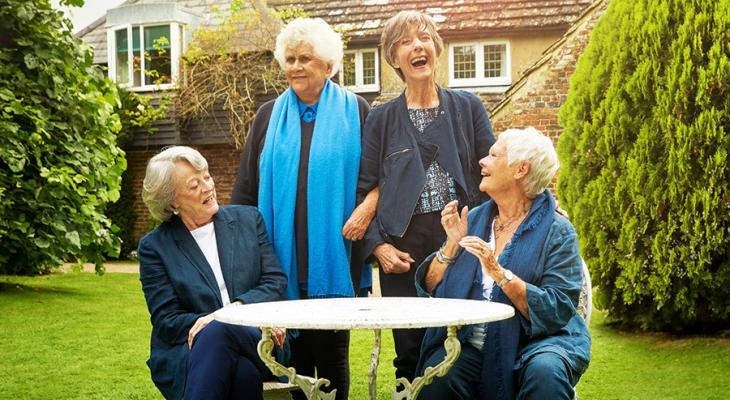 May
25
Nothing Like a Dame VOD // Hot Docs at Home
Available to stream as of May 25, pre-order your ticket now.
Discover (or re-discover) comforting favourites from the Hot Docs Cinema repertoire with our ongoing Best Of collection.
Pour yourself a cup of tea and gather around the English countryside with four living legends of stage and screen: Dames Eileen Atkins, Judi Dench, Joan Plowright, and Maggie Smith. Be a fly on the wall as the quartet chat, laugh, and reminisce on everything from their early theatre days to the decades of iconic film and television performances that gave us Downton Abbey, Shakespeare in Love, Harry Potter and countless others. Filled with scintillating archives and outrageously funny anecdotes, Nothing Like a Dame is a candid, poignant and unmissable watch from director Roger Michell (Notting Hill, Venus).
The film will be available for 48 hours from when you start the stream. Please note streaming is only possible from inside Canada.
____________________________________________________________
Please visit our website for more information on Hot Docs at Home streaming titles: bit.ly/2yQy5NX
Hot Docs Ted Rogers Cinema
DETAILS
Hot Docs Ted Rogers Cinema
(416) 637-3123
506 Bloor St West
Toronto ON M5S 1Y3
Canada
DATE & TIME
-
[ Add to Calendar ]
2020-05-25 04:00:00
2020-06-20 03:59:09
Nothing Like a Dame VOD // Hot Docs at Home
<p>Available to stream as of May 25, pre-order your ticket now.</p> <p> Discover (or re-discover) comforting favourites from the Hot Docs Cinema repertoire with our ongoing Best Of collection.</p>
506 Bloor St West
Toronto ON M5S 1Y3
Canada
Bloor St. Culture Corridor
info@perceptible.com
America/Toronto
public
TICKETS