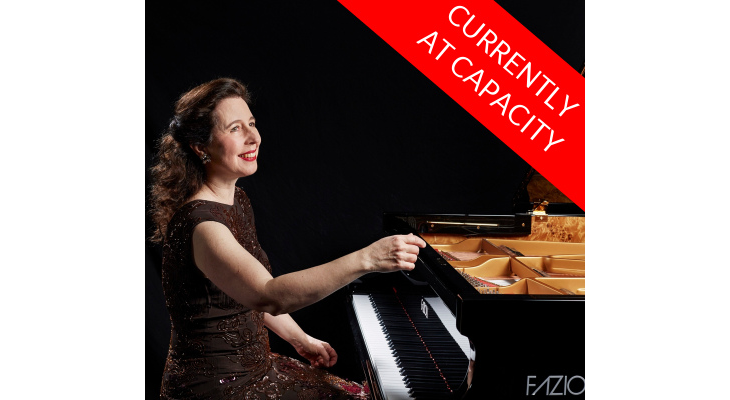 Oct
18
Angela Hewitt
This concert is currently at capacity. Click here to request to be added to the waiting list for tickets.
"Ms. Hewitt is one of those rare musicians who seem to get something into their heads and hearts and find it at their fingertips instantaneously." (The New York Times)
One of the world's leading pianists, Angela Hewitt appears in recital and as soloist with major orchestras throughout Europe, the Americas, Australia, and Asia. Her interpretations of the music of J.S. Bach have established her as one of the composer's foremost interpreters of our time. She has been awarded an OBE from Queen Elizabeth II and was promoted to a Companion of the Order of Canada. She was Artist of the Year at the 2006 Gramophone Awards, Instrumentalist of the Year at the 2010 MIDEM Classical Awards in Cannes, and, in 2018, received the Governor General's Lifetime Achievement Award in Ottawa. She is a member of the Royal Society of Canada, has seven honorary doctorates, and is an alumna of The Royal Conservatory of Music.
Program:
Johann Sebastian Bach: Art of the Fugue, BWV 1080
______________________________________________________________________________________________________________________
Reduced Capacity and Special Ticketing Structure for Safe Physical Distancing
PLEASE NOTE:
We have reduced the number of seats available to ensure safe physical distancing at all of our concerts.
Tickets are now purchased by section, rather than for specific seats.
Individual specific seats are not being sold.
You can choose print-at-home tickets or to pick up your tickets at the box office on the day of the performance. Tickets are not currently being sent by mail.
On the day of the concert, The Conservatory will help you to access seat(s) within the section you have purchased, to ensure physical distancing protocols are followed.
Ticket purchasers will be provided with more information and special instructions prior to the concert date.
Please feel welcome to contact our wonderful box office team members with any questions you may have. We are happy to help. 416.408.0208
We are committed to bringing you inspiring live music – in a way that is safe and responsible.
______________________________________________________________________________________________________________________
DETAILS
(416) 408-0208
273 Bloor Street West
TELUS Centre for Performance and Learning
Toronto ON M5S 1W2
Canada
DATE & TIME
-
[ Add to Calendar ]
2020-10-18 19:00:00
2020-10-18 21:00:00
Angela Hewitt
<p><strong><em>This concert is currently at capacity. </em></strong><a href="mailto:tickets@rcmusic.ca?subject=Request%20for%20Waiting%20List%20|%20Angela%20Hewitt" target="_blank" title="tickets@rcmusic.ca"><strong><em>Click here to request to be added to the waiting list for tickets.</em></strong></a></p> <p>"Ms. Hewitt is one of those rare musicians who seem to get something into their heads and hearts and find it at their fingertips instantaneously." (<em>The New York Times</em>)</p>
273 Bloor Street West
TELUS Centre for Performance and Learning
Toronto ON M5S 1W2
Canada
Bloor St. Culture Corridor
info@perceptible.com
America/Toronto
public