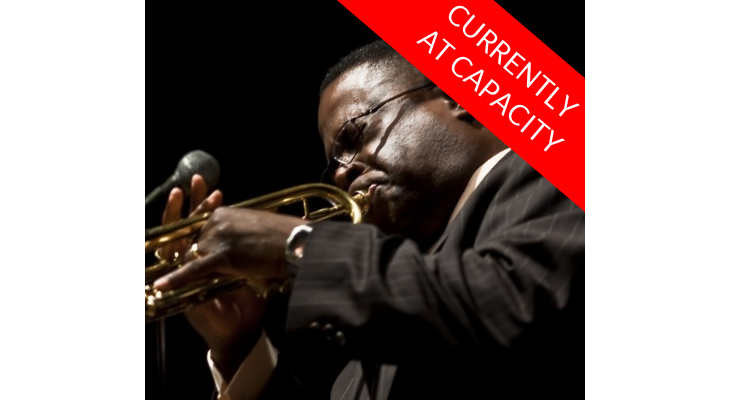 Oct
23
Orbert Davis "Soul Migration" featuring members of Chicago Jazz Philharmonic
_
This concert is currently at capacity. Click here to request to be added to the waiting list for tickets.
Join celebrated Chicago trumpeter, composer, and bandleader, Orbert Davis, as he presides over a celebration of the "Great Black Migration" to Chicago. "Imagine how diminished American music would be if the Great Migration had not brought Jelly Roll Morton, Louis Armstrong, Nat King Cole, Mahalia Jackson, Thomas A. Dorsey, Muddy Waters and uncounted others to Chicago, where their work could be disseminated globally via radio broadcasts, music publishing and recordings. The music they created serves as tangible testament to the incalculable cultural impact of the Great Migration, which many historians date from 1916 to 1970." (Chicago Tribune)
One of Chicago's "most admired jazz artists" (Chicago Tribune), Emmy Award-winning trumpeter, composer, and educator, Orbert Davis, is co-founder, conductor, and artistic director of Chicago Jazz Philharmonic, a symphonic jazz orchestra combining jazz and classical music. He also founded Jazz Alive, the arts education outreach arm of Chicago Jazz, and he co-owns and operates Discover Music: Discover Life, Inc. Davis has many composer commissions to his credit and has played key roles in major film and television projects, in addition to numerous recordings and his role as radio personality and host of The Real Deal with Orbert Davis.
"Bristling innovation and mainstream melody-making, classical modernism and free jazz improvisation - all these elements, and others, converge when CJP takes the stage." (Chicago Tribune)
_____________________________________________________________________________________________
Reduced Capacity and Special Ticketing Structure for Safe Physical Distancing
PLEASE NOTE:
We have reduced the number of seats available to ensure safe physical distancing at all of our concerts.
Tickets are now purchased by section, rather than for specific seats.
Individual specific seats are not being sold.
You can choose print-at-home tickets or to pick up your tickets at the box office on the day of the performance. Tickets are not currently being sent by mail.
On the day of the concert, The Conservatory will help you to access seat(s) within the section you have purchased, to ensure physical distancing protocols are followed.
Ticket purchasers will be provided with more information and special instructions prior to the concert date.
Please feel welcome to contact our wonderful box office team members with any questions you may have. We are happy to help. 416.408.0208
e are committed to bringing you inspiring live music – in a way that is safe and responsible.
______________________________________________________________________________________________________________________
DETAILS
(416) 408-0208
273 Bloor Street West
TELUS Centre for Performance and Learning
Toronto ON M5S 1W2
Canada
DATE & TIME
-
[ Add to Calendar ]
2020-10-24 00:00:00
2020-10-24 02:30:00
Orbert Davis "Soul Migration" featuring members of Chicago Jazz Philharmonic
<p>_</p> <p><strong><em>This concert is currently at capacity. </em></strong><a href="mailto:tickets@rcmusic.ca?subject=Request%20for%20Waiting%20List%20|%20Orbert%20Davis%20" target="_blank" title="tickets@rcmusic.ca"><strong><em>Click here to request to be added to the waiting list for tickets.</em></strong></a></p>
273 Bloor Street West
TELUS Centre for Performance and Learning
Toronto ON M5S 1W2
Canada
Bloor St. Culture Corridor
info@perceptible.com
America/Toronto
public