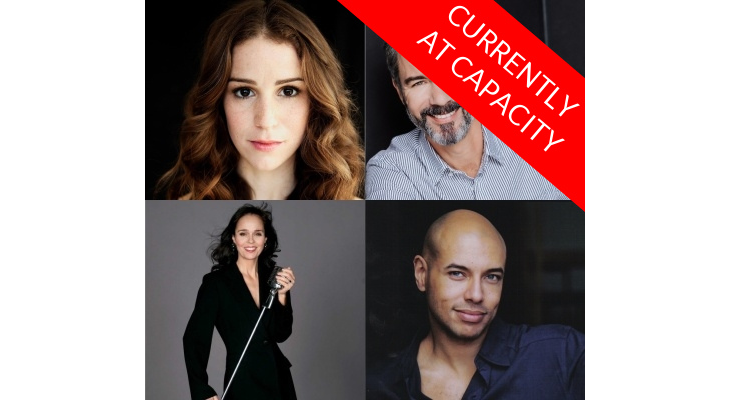 Oct
17
Season Gala: Follies in Concert
Starring Chilina Kennedy, Cynthia Dale, and Eric McCormack
with Mary Lou Fallis, Denise Fergusson, Lorraine Foreman, Thom Allison, Ben Heppner, Sheila McCarthy, Louise Pitre, Jackie Richardson, and Avery Saltzman
Book by James Goldman Music and lyrics by Stephen Sondheim
Directed by Richard Ouzounian
Music Director Paul Sportelli
Designer Nick Blais
Choreographer Robin Calvert
Orchestrations by Jonathan Tunick
Produced originally on Broadway by Harold Prince By special arrangements with Cameron Mackintosh and Music Theatre International (MTI)
Saturday, October 17, 2020 8pm
Koerner Hall
This concert is currently at capacity. Click here to request to be added to the waiting list for tickets.
An all-star cast of Canadian theatrical icons and orchestra perform the legendary masterpiece considered by many to be the greatest musical ever created. Surreal, sophisticated, compelling, heart wrenching, and epic in scope, including hit songs "Losing My Mind," "I'm Still Here," and "Broadway Baby."
Celebrate Sondheim's 90th birthday with us! Only at Koerner Hall. One night only. A star-studded spectacular event in support of The Fund for Koerner Hall.
Concert tickets start at only $99.
For information about gala dinner and concert packages, please call 416.408.2824 x 447.
______________________________________________________________________________________________________________________
Reduced Capacity and Special Ticketing Structure for Safe Physical Distancing
PLEASE NOTE:
We have reduced the number of seats available to ensure safe physical distancing at all of our concerts.
Tickets are now purchased by section, rather than for specific seats.
Individual specific seats are not being sold.
You can choose print-at-home tickets or to pick up your tickets at the box office on the day of the performance. Tickets are not currently being sent by mail.
On the day of the concert, The Conservatory will help you to access seat(s) within the section you have purchased, to ensure physical distancing protocols are followed.
Ticket purchasers will be provided with more information and special instructions prior to the concert date.
Please feel welcome to contact our wonderful box office team members with any questions you may have. We are happy to help. 416.408.0208
We are committed to bringing you inspiring live music – in a way that is safe and responsible.
______________________________________________________________________________________________________________________
DETAILS
(416) 408-0208
273 Bloor Street West
TELUS Centre for Performance and Learning
Toronto ON M5S 1W2
Canada
DATE & TIME
-
[ Add to Calendar ]
2020-10-18 00:00:00
2020-10-18 02:30:00
Season Gala: Follies in Concert
<p><strong>Starring Chilina Kennedy, Cynthia Dale, and Eric McCormack </strong></p> <p><strong>with Mary Lou Fallis, Denise Fergusson, Lorraine Foreman, Thom Allison, Ben Heppner, Sheila McCarthy, Louise Pitre, Jackie Richardson, and Avery Saltzman</strong><strong> </strong></p> <p> <strong>Book by James Goldman Music and lyrics by Stephen Sondheim</strong></p> <p>Directed by Richard Ouzounian</p> <p>Music Director Paul Sportelli</p> <p>Designer Nick Blais</p> <p>Choreographer Robin Calvert</p> <p>Orchestrations by Jonathan Tunick</p>
273 Bloor Street West
TELUS Centre for Performance and Learning
Toronto ON M5S 1W2
Canada
Bloor St. Culture Corridor
info@perceptible.com
America/Toronto
public