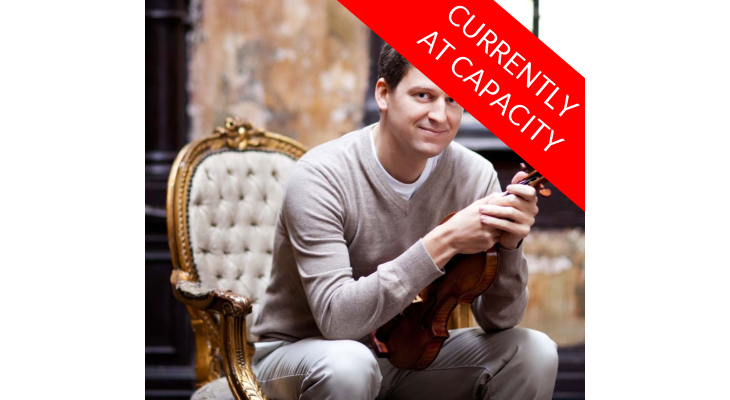 Nov
13
James Ehnes with Andrew Armstrong
Tickets start at only $40
This concert is currently at capacity. Click here to request to be added to the waiting list for tickets.
This concert launches of our Beethoven 250 Festival, curated by James Ehnes and Mervon Mehta, Executive Director of Performing Arts at The Royal Conservatory. It is the first part (Nos. 1-5) of the complete Beethoven Violin Sonatas. Purchase tickets to this concert along with Beethoven's Violin Sonatas Nos. 6-10, performed by Ehnes and Armstrong on December 13, 2020. 
"The wondrous James Ehnes, a thinker of the violin as well as a supreme virtuoso of the violin … [is] an artist of the first order." (The Daily Telegraph) Winner of Grammy, Gramophone, and Juno awards, Ehnes has been appointed as a member of the Order of Canada, a Fellow of the Royal Society of Canada, Honorary Member of the Royal Academy of Music, and Artistic Director of Seattle Chamber Music Society. "A violinist in a class of his own." (The Times)
Pianist Andrew Armstrong is a long-time collaborator with Ehnes. He also performs with cellist Robert deMaine, and is a member of the Boston Chamber Music Society, Jupiter Symphony Chamber Players, and Seattle Chamber Music Society.

All Ludwig van Beethoven Program:  
Violin Sonata No. 1 in D Major, op. 12, no. 1
Violin Sonata No. 2 in A Major, op. 12, no. 2
Violin Sonata No. 3 in E flat Major, op. 12, no. 3
Violin Sonata No. 4 in A Minor, op. 23
Violin Sonata No. 5 in F Major, op. 24 ("Spring")
______________________________________________________________________________________________________________________
Reduced Capacity and Special Ticketing Structure for Safe Physical Distancing
PLEASE NOTE:
We have reduced the number of seats available to ensure safe physical distancing at all of our concerts.
Tickets are now purchased by section, rather than for specific seats.
Individual specific seats are not being sold.
You can choose print-at-home tickets or to pick up your tickets at the box office on the day of the performance. Tickets are not currently being sent by mail.
On the day of the concert, The Conservatory will help you to access seat(s) within the section you have purchased, to ensure physical distancing protocols are followed.
Ticket purchasers will be provided with more information and special instructions prior to the concert date.
Please feel welcome to contact our wonderful box office team members with any questions you may have. We are happy to help. 416.408.0208
We are committed to bringing you inspiring live music – in a way that is safe and responsible.
______________________________________________________________________________________________________________________
DETAILS
(416) 408-0208
273 Bloor Street West
TELUS Centre for Performance and Learning
Toronto ON M5S 1W2
Canada
DATE & TIME
-
[ Add to Calendar ]
2020-11-14 01:00:00
2020-11-14 03:30:00
James Ehnes with Andrew Armstrong
<p>Tickets start at only $40</p> <p><strong><em>This concert is currently at capacity. <a href="mailto:tickets@rcmusic.ca?subject=Request%20for%20Waiting%20List%20|%20James%20Ehnes%20with%20Andrew%20Armstrong%20(Nov%2013)" target="_blank" title="tickets@rcmusic.ca">Click here to request to be added to the waiting list for tickets.</a></em></strong></p>
273 Bloor Street West
TELUS Centre for Performance and Learning
Toronto ON M5S 1W2
Canada
Bloor St. Culture Corridor
info@perceptible.com
America/Toronto
public