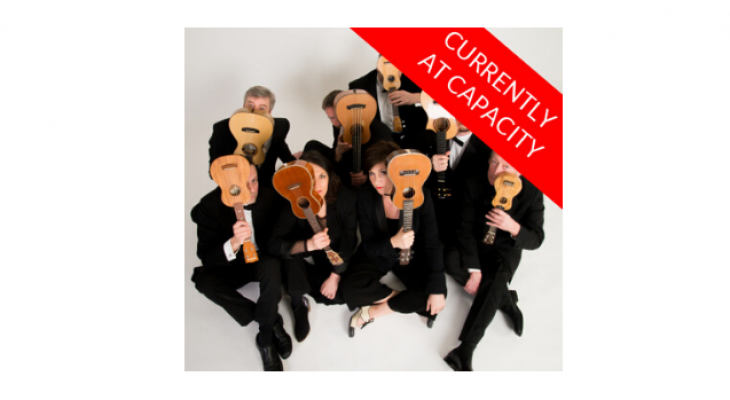 Apr
28
Ukulele Orchestra of Great Britain
Tickets start at only $35
This concert is currently at capacity. Click here to request to be added to the waiting list for tickets.
George Hinchliffe's Ukulele Orchestra of Great Britain is a group of all-singing, all-strumming ukulele players who believe that all genres of music are available for reinterpretation, as long as they are played on the ukulele! Their concerts are a funny, virtuosic, twanging, awesome, foot-stomping obituary of rock-n-roll featuring the "bonsai guitar" and a menagerie of voices. There are no drums, pianos, backing tracks, or banjos, no pitch shifters or electronic trickery. Only an astonishing revelation of the rich palette of orchestration afforded by ukuleles and singing (and a bit of whistling). Going from Tchaikovsky to Nirvana via Otis Redding and Spaghetti Western soundtracks, the Orchestra takes us on "a world tour with only hand luggage" and gives the listener "One Plucking Thing After Another."
Over the last 29 years, George Hinchliffe's Ukulele Orchestra of Great Britain has spawned hundreds of imitators, and you can now find ukulele groups in nearly every major city, indeed, the Orchestra is often blamed for the current ukulele revival, which is sweeping the globe. The Ukulele Orchestra's music has been used in films, plays, and commercials, while film clips of the Orchestra's live concerts and TV appearances on websites such as YouTube have been watched millions of times. Collaborators have included Madness, David Arnold, The British Film Institute, The Ministry of Sound, Yusuf Islam (aka Cat Stevens), and The Kaiser Chiefs.
___________________________________________________________________________________________________________________________________________________________
Reduced Capacity and Special Ticketing Structure for Safe Physical Distancing
PLEASE NOTE:
We have reduced the number of seats available to ensure safe physical distancing at all of our concerts.
Tickets are now purchased by section, rather than for specific seats.
Individual specific seats are not being sold.
You can choose print-at-home tickets or to pick up your tickets at the box office on the day of the performance. Tickets are not currently being sent by mail.
On the day of the concert, The Conservatory will help you to access seat(s) within the section you have purchased, to ensure physical distancing protocols are followed.
Ticket purchasers will be provided with more information and special instructions prior to the concert date.
Please feel welcome to contact our wonderful box office team members with any questions you may have. We are happy to help. 416.408.0208
We are committed to bringing you inspiring live music – in a way that is safe and responsible.
____________________________________________________________________________________________________________________________________________________________
DETAILS
(416) 408-0208
273 Bloor Street West
TELUS Centre for Performance and Learning
Toronto ON M5S 1W2
Canada
DATE & TIME
-
[ Add to Calendar ]
2021-04-29 00:00:00
2021-04-29 02:30:00
Ukulele Orchestra of Great Britain
<p>Tickets start at only $35</p> <p><strong><em>This concert is currently at capacity. <a href="mailto:tickets@rcmusic.ca?subject=Request%20for%20Waiting%20List%20|%20Ukulele%20Orchestra%20of%20Great%20Britain%20(Apr%2028)" target="_blank" title="tickets@rcmusic.ca">Click here to request to be added to the waiting list for tickets.</a></em></strong></p>
273 Bloor Street West
TELUS Centre for Performance and Learning
Toronto ON M5S 1W2
Canada
Bloor St. Culture Corridor
info@perceptible.com
America/Toronto
public