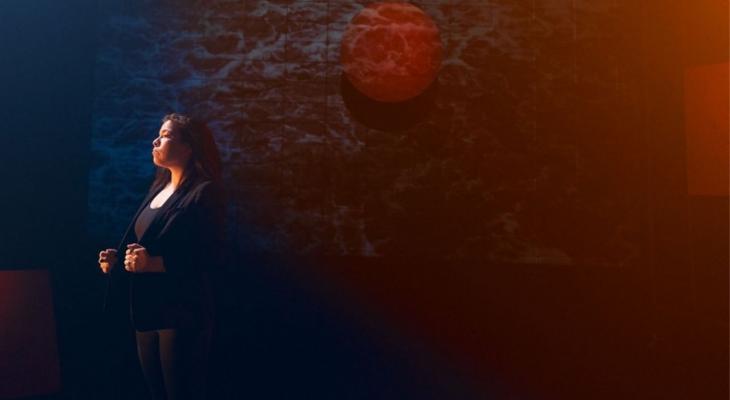 Feb
25
Spotlight on Québec: Nin E Tepueian, Mon cri (Nin E Tepueian, My Cry) VOD // Hot Docs at Home
Since the rise of Idle No More, poet, actress and activist Natasha Kanapé Fontaine has become a prominent voice in the fight for Indigenous rights, using the language of her Innu ancestors to heal the wounds of racism and white colonialism. But she finds herself at a crossroads. As an artist and political activist, how do you reconcile the need for self-determination, both for yourself and for Indigenous peoples everywhere? Capturing her during a pivotal moment in her career, Montreal director Santiago Bertolino crafts a vibrant and fascinating portrait of a woman on a mission.
In French with English subtitles
This program is presented by SODEC, in collaboration with RIDM (Les Rencontres internationales du documentaire de Montréal).
______________________________________________________
Depuis Idle No More, Natasha Kanapé Fontaine se lève et prend la parole. Pour son peuple innu, face au colonialisme, mais aussi à travers la poésie des mots, elle est de plus en plus présente dans l'espace public. Ayant entrepris une réflexion sur l'autodétermination des peuples autochtones, la poétesse, comédienne et militante se retrouve à un carrefour. Pendant un an, Santiago Bertolino la suit dans ses questionnements, proposant un vibrant et passionnant portrait d'une femme en pleine quête personnelle.
En français avec sous-titres en anglais
______________________________________________________
Spotlight on Québec: With a distinct artistic sensibility and richness of diverse stories, Québec has earned a reputation as one of the most vibrant cinematic regions in the country. Explore la Belle Province through this selection of festival favourites and hidden gems from across the province, curated in partnership with the Montreal International Documentary Festival (RIDM).
This free title is available exclusively to Members. Join our community to unlock access to this and more free premium programming on Hot Docs at Home each month.
Hot Docs Ted Rogers Cinema
DETAILS
Hot Docs Ted Rogers Cinema
(416) 637-3123
506 Bloor St West
Toronto ON M5S 1Y3
Canada
DATE & TIME
-
[ Add to Calendar ]
2021-02-25 17:00:00
2021-04-30 03:59:00
Spotlight on Québec: Nin E Tepueian, Mon cri (Nin E Tepueian, My Cry) VOD // Hot Docs at Home
<p>Since the rise of Idle No More, poet, actress and activist Natasha Kanapé Fontaine has become a prominent voice in the fight for Indigenous rights, using the language of her Innu ancestors to heal the wounds of racism and white colonialism. But she finds herself at a crossroads. As an artist and political activist, how do you reconcile the need for self-determination, both for yourself and for Indigenous peoples everywhere? Capturing her during a pivotal moment in her career, Montreal director Santiago Bertolino crafts a vibrant and fascinating portrait of a woman on a mission.</p>
506 Bloor St West
Toronto ON M5S 1Y3
Canada
Bloor St. Culture Corridor
info@perceptible.com
America/Toronto
public