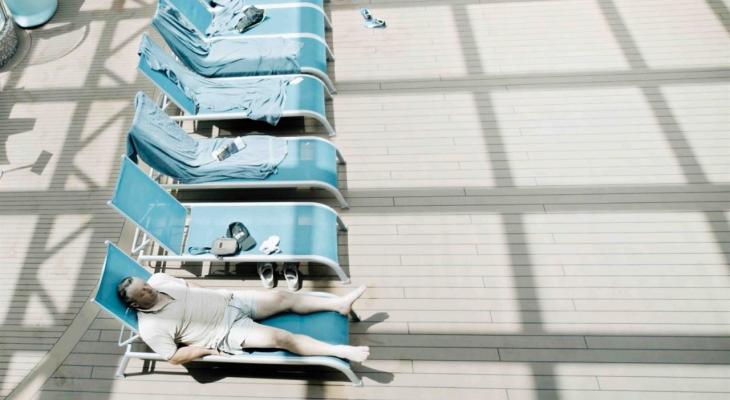 May
27
High Minded: All Inclusive (Short Film) VOD // Hot Docs at Home
This surreal short film invites you on board a palatial cruise ship where fun is guaranteed around the clock while you float on the high seas. Through a series of perfect composed and often absurd stationary shots, director Corina Schwingruber Ilic illuminates this massive holiday fortress as a curious microcosm of society. Thousands of guests move in prescribed succession, all under the spell of bizarrely ritualized mass entertainment. Meanwhile, beneath deck, staff members attend to the exceptional demands of this manufactured ecosystem. The result is a pointed, satirical commentary on luxury, excess, loneliness and what some people consider fun.
High Minded: It's legal now. A collection of documentaries for the high minded, featuring the biggest-thinking, most visually profound and psychedelic documentary cinema.
This free title is available exclusively to Members. Join our community to unlock access to this and more free premium programming on Hot Docs at Home each month.
Hot Docs Ted Rogers Cinema
DETAILS
Hot Docs Ted Rogers Cinema
(416) 637-3123
506 Bloor St West
Toronto ON M5S 1Y3
Canada
DATE & TIME
-
[ Add to Calendar ]
2021-05-27 18:00:00
2021-07-30 03:59:00
High Minded: All Inclusive (Short Film) VOD // Hot Docs at Home
<p>This surreal short film invites you on board a palatial cruise ship where fun is guaranteed around the clock while you float on the high seas. Through a series of perfect composed and often absurd stationary shots, director Corina Schwingruber Ilic illuminates this massive holiday fortress as a curious microcosm of society. Thousands of guests move in prescribed succession, all under the spell of bizarrely ritualized mass entertainment. Meanwhile, beneath deck, staff members attend to the exceptional demands of this manufactured ecosystem.</p>
506 Bloor St West
Toronto ON M5S 1Y3
Canada
Bloor St. Culture Corridor
info@perceptible.com
America/Toronto
public