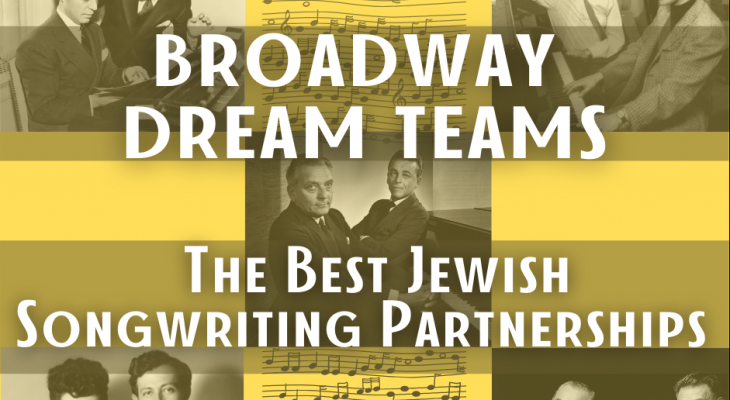 Oct
13
Broadway Dreams: Best Jewish Songwriting Partnerships
With pianist/musicologist Jordan Klapman
Matching vibrant, emotion-inducing melodies to witty lyrics that define character and reveal a deeper understanding of the story is the goal of every Broadway composer.
Since musical theatre first started dazzling audiences, both on Broadway and in Hollywood, there were the great writing teams — one a composer, the other a lyricist — who came together to create memorable and timeless scores.
This 5-part virtual lecture series will celebrate the lives and works of legendary Jewish composing teams Richard Rogers & Lorenz Hart, Betty Comden & Adolph Green, Richard Rogers & Oscar Hammerstein II, Richard Adler and Jerry Ross, Alan Jay Lerner & Frederick Loewe and some of the greatest musicals ever written.
Join us for a 'live' Zoom Q & A with Jordan on Thursday November 19th at 2:00pm, where he will answer questions about the entire lecture series.
To access this lecture series you must register for MNjcc On Demand's exclusive streaming service  – all you have to do is purchase a Virtual Membership for only $14.99/month. If you have a Fitness Membership you automatically have On Demand access. If you do not have either of these memberships you will be given an opportunity to purchase one during the registration process. For On Demand registration assistance, please contact our Information Desk at help@mnjcc.org or 416-924-6211 x0.
DETAILS
DATE & TIME
-
[ Add to Calendar ]
2020-10-13 12:00:00
2020-11-10 04:55:00
Broadway Dreams: Best Jewish Songwriting Partnerships
<p><strong>With pianist/musicologist Jordan Klapman</strong></p> <p>Matching vibrant, emotion-inducing melodies to witty lyrics that define character and reveal a deeper understanding of the story is the goal of every Broadway composer.</p> <p>Since musical theatre first started dazzling audiences, both on Broadway and in Hollywood, there were the great writing teams — one a composer, the other a lyricist — who came together to create memorable and timeless scores.</p>
Bloor St. Culture Corridor
info@perceptible.com
America/Toronto
public
TICKETS