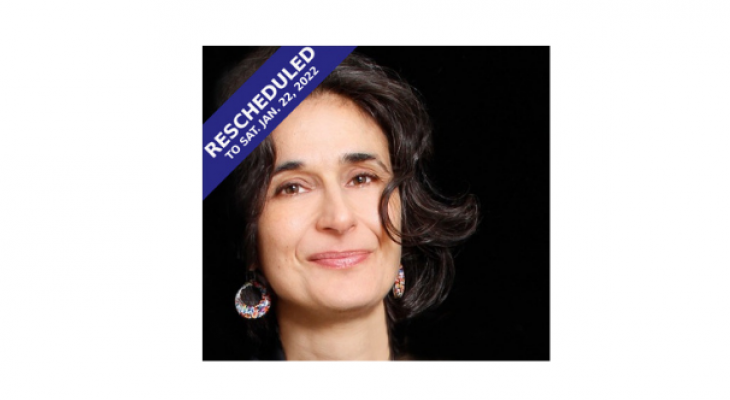 Jan
16
21C Cinq à Sept: Eve Egoyan
Livestream tickets: $15
Livestream for ticket holders will be available online for seven days.
This performance has been rescheduled to Saturday, January 22, 2022 5pm (next year).
Eve Egoyan performs the world premieres of Seven Studies for Augmented Piano, which she created for a newly imagined instrument that delves into the space between what a piano can do and what Eve has always wished a piano could do. The core of these works is the live acoustic sound of the physical piano she is playing, but through the delicate intervention of technology, she tests (teases) the edges of the piano's natural sound, ultimately pushing it beyond the familiar, through the impossible, and into the extraordinary. 
The livestream also includes the world premiere of a short video directed by Toronto filmmaker Su Rynard: Études for Augmented Piano takes the audience inside Eve's world as she creates new works for this augmented piano. The video playfully reveals how the elusive sounds in her compositions are produced, while affirming how the listener is essential to Eve's creative process, even in a time when isolation prevails. 
Program:
Eve Egoyan: Seven Studies for Augmented Piano (all world premieres)
Expansion
A Doubling
Overtones
Shimmer
Tidal
Moonlit
Crescendo on a Note
21C Music Festival
FEARLESS MUSICIANS / FRESH NEW SOUNDS
#21Cmusic
CLICK HERE TO VIEW ALL 21C MUSIC FESTIVAL CONCERTS
DETAILS
(416) 408-0208
273 Bloor Street West
TELUS Centre for Performance and Learning
Toronto ON M5S 1W2
Canada
DATE & TIME
-
[ Add to Calendar ]
2021-01-16 22:00:00
2021-01-17 00:00:00
21C Cinq à Sept: Eve Egoyan
<p><strong>Livestream tickets: $15</strong></p> <p><strong>Livestream for ticket holders will be available online for seven days.</strong></p> <p> </p> <p><strong>This performance has been </strong><strong>rescheduled to Saturday, January 22, 2022 5pm (next year).</strong></p> <p> </p>
273 Bloor Street West
TELUS Centre for Performance and Learning
Toronto ON M5S 1W2
Canada
Bloor St. Culture Corridor
info@perceptible.com
America/Toronto
public
TICKETS