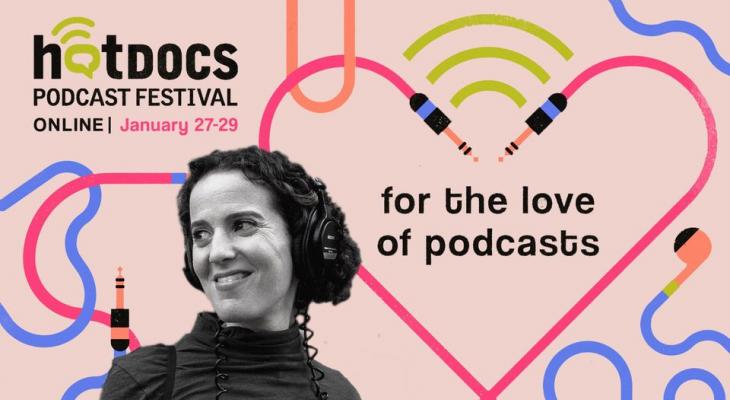 Jan
27
Hot Docs Podcast Festival (Online)
Hot Docs' signature podcast event returns for a 5th edition, available online and worldwide from January 27-29 💗
First live acts announced include:
• Radiolab & Dolly Parton's America
• The New York Times's 1619 & Nice White Parents
• CBC Podcasts' This is Not a Drake Podcast
• CANADALAND and more to be announced on Jan 5!
************************************************************************
Join us in celebrating the power of audio storytelling to move, delight and keep us connected in our new socially-distanced reality. Go behind the scenes of your favourite shows, get exclusive creative insight, and be transported by the power of a good story.
Curated for both podcast-makers and enthusiasts alike, this tightly curated digital fest will feature +25 events, including:
• Exclusive live conversations with star creators and hosts
• Panels, masterclasses and interactive gatherings
• Dynamic on-demand events that can be streamed on your own schedule
🎟️ PODCAST FESTIVAL PASS 🎟️
➡️ Save 30% with our Early Bird pricing, available until January 7
• Access to stream all live and on-demand events during the Festival period (Jan 27-29)
• Exclusive extended streaming access to all event recordings after the Festival is over, until February 28.
Buy Now: https://bit.ly/366nsox
// Presented in partnership with CBC Podcasts, with major partner RBC Foundation //
Hot Docs Ted Rogers Cinema
DETAILS
Hot Docs Ted Rogers Cinema
(416) 637-3123
506 Bloor St West
Toronto ON M5S 1Y3
Canada
DATE & TIME
-
[ Add to Calendar ]
2021-01-27 05:00:00
2021-01-29 05:00:00
Hot Docs Podcast Festival (Online)
<p>Hot Docs' signature podcast event returns for a 5th edition, available online and worldwide from January 27-29 💗</p> <p> First live acts announced include:</p> <p> • <a href="https://www.facebook.com/Radiolab/" target="_blank">Radiolab</a> &amp; Dolly Parton's America</p> <p> • <a href="https://www.facebook.com/nytimes/" target="_blank">The New York Times</a>'s 1619 &amp; Nice White Parents</p> <p> • <a href="https://www.facebook.com/99percentinvisible/" target="_blank">99% Invisible</a></p> <p> • <a href="https://www.facebook.com/gimletmedia/" target="_blank">Gimlet Media</a></p>
506 Bloor St West
Toronto ON M5S 1Y3
Canada
Bloor St. Culture Corridor
info@perceptible.com
America/Toronto
public
TICKETS