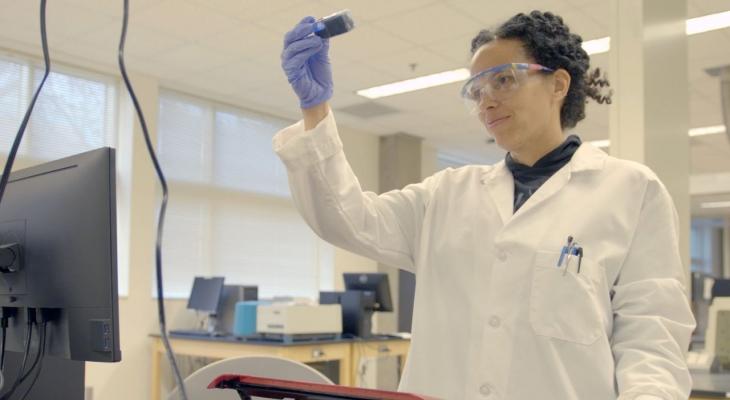 Jan
18
Picture a Scientist + Q&A with Sharon Shattuck and Ian Cheney // Doc Soup
Only available with a 2020-21 Doc Soup Subscription.  Already a subscriber? You will have one week to stream each film and pre-recorded Q&A. We will send you an email with your access details prior to your streaming window. 
Ever wonder why women scientists are still a minority across the world? This crucial, eye-opening documentary from Sharron Shattuck and Ian Cheney opens the laboratory doors to confront the largely under-represented struggles endured by women in the field. In candid, sit-down interviews, a geologist, a chemist, a retired biologist and more scientific luminaries lead us on a journey deep into their own experiences— ranging from brutal harassment to years of subtle slights—offering much-needed perspectives on how to make science more diverse, equitable, and open to all.
Includes an exclusive post-film Q&A with directors Sharon Shattuck and Ian Cheney. 
_________________________________________________________________________
Doc Soup: Now available from the comfort of your home, the series you know and love will take place October to April, featuring some of the year's best docs plus Q&As with special guests. 
Tickets: Available with a Doc Soup Subscription only | BUY NOW  >> A subscription includes 7 monthly screenings + 12 tickets for the 2021 Hot Docs Festival.  Members save on subscriptions!
Hot Docs Ted Rogers Cinema
DETAILS
Hot Docs Ted Rogers Cinema
(416) 637-3123
506 Bloor St West
Toronto ON M5S 1Y3
Canada
DATE & TIME
-
[ Add to Calendar ]
2021-01-18 17:00:00
2021-01-25 04:59:00
Picture a Scientist + Q&A with Sharon Shattuck and Ian Cheney // Doc Soup
<p><strong>Only available with a </strong><a href="https://hotdocscinema.ca/c/doc-soup"><strong>2020-21 Doc Soup Subscription</strong></a><strong>.  Already a subscriber? </strong>You will have one week to stream each film and pre-recorded Q&amp;A. We will send you an email with your access details prior to your streaming window. </p>
506 Bloor St West
Toronto ON M5S 1Y3
Canada
Bloor St. Culture Corridor
info@perceptible.com
America/Toronto
public
TICKETS