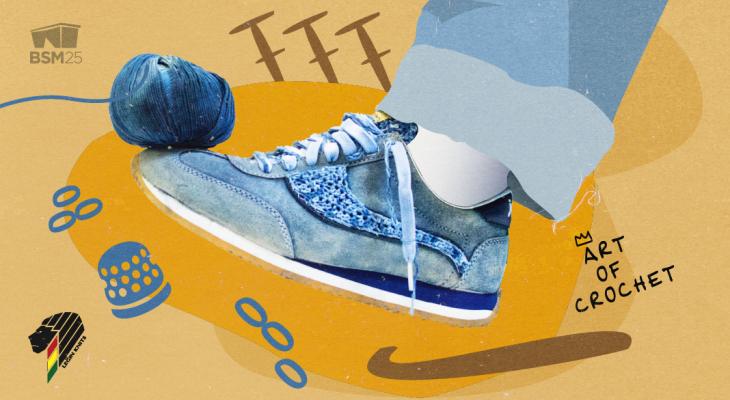 Jan
16
Uplifted: Art of Crochet Shoes
Learn how to crochet for the first time or refresh your skills, while discovering innovative ways to create. We will explore the effectiveness of patience & wellness while learning new modalities from a place of silence and stillness in order to increase awareness of the mind, body & soul. Engage in dialogue to strengthen knowledge of upcycling and sourcing materials, in order to reduce waste and become more eco-friendly.
Legin Knits will take the time to discuss "the shoe" and gain a bit of knowledge about the history, the evolution and the Bata Shoe Museum. In this workshop, participants will learn how to crochet as well as techniques on how to customize their shoes with decorative crochet pieces using a 3-step customization process. No skills needed. All levels accepted from beginner to advanced.
This workshop will take place via Zoom. All participants are required to source their own equipment needed for this workshop. Please see below for details.
DETAILS
(416) 979-7799
327 Bloor St West
Toronto ON M5S 1W7
Canada
DATE & TIME
-
[ Add to Calendar ]
2021-01-16 15:00:00
2021-01-16 19:00:00
Uplifted: Art of Crochet Shoes
<p>Learn how to crochet for the first time or refresh your skills, while discovering innovative ways to create. We will explore the effectiveness of patience &amp; wellness while learning new modalities from a place of silence and stillness in order to increase awareness of the mind, body &amp; soul. Engage in dialogue to strengthen knowledge of upcycling and sourcing materials, in order to reduce waste and become more eco-friendly.</p>
327 Bloor St West
Toronto ON M5S 1W7
Canada
Bloor St. Culture Corridor
info@perceptible.com
America/Toronto
public