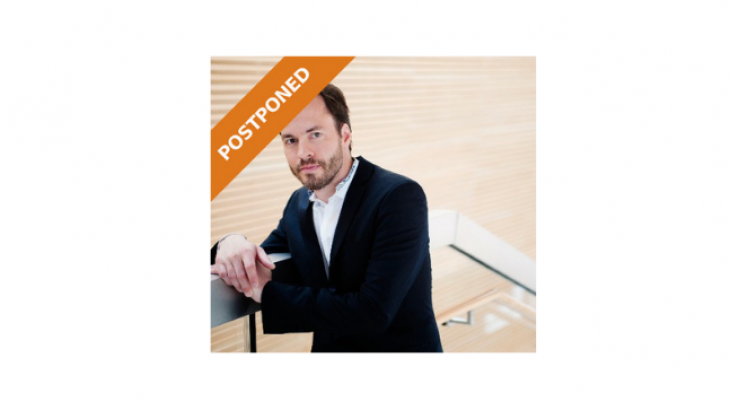 Feb
26
Johannes Debus conducts the Royal Conservatory Orchestra
This concert has been postponed. The new date is to be announced.
Johannes Debus has been Music Director of the Canadian Opera Company (COC) since 2009, having been appointed immediately following his debut. As guest conductor, he has appeared at numerous international festivals and with The Cleveland Orchestra, Boston Symphony Orchestra, and the Philharmonia in London. "Johannes Debus made an excellent impression ... leading a tight, disciplined performance of this difficult score … when it came to communicating the essential character of the piece, Debus was right on the mark, finding thrilling tension in the lean, hard edges of the score." (New York Classical Review)
Part of the Temerty Orchestral Program at The Glenn Gould School (GGS), the Royal Conservatory Orchestra (RCO) is widely regarded as an outstanding ensemble and one of the best training orchestras in North America. It consists of instrumental students in the undergraduate and graduate programs of The Glenn Gould School. Graduates of the RCO have joined the ranks of the greatest orchestras in the world. 
Program:
Johannes Brahms: Violin Concerto in D Major, op. 77 (Ji Soo Choi, violin)
Joseph Haydn: Symphony No. 88 in G Major, Hob.I:88
Béla Bartók: The Miraculous Mandarin, op. 19a, BB82, Sz.73a (suite from pantomime)
DETAILS
(416) 408-0208
273 Bloor Street West
TELUS Centre for Performance and Learning
Toronto ON M5S 1W2
Canada
DATE & TIME
-
[ Add to Calendar ]
2021-02-27 01:00:00
2021-02-27 03:30:00
Johannes Debus conducts the Royal Conservatory Orchestra
<p><strong>This concert has been postponed. The new date is to be announced. </strong></p>
273 Bloor Street West
TELUS Centre for Performance and Learning
Toronto ON M5S 1W2
Canada
Bloor St. Culture Corridor
info@perceptible.com
America/Toronto
public
TICKETS