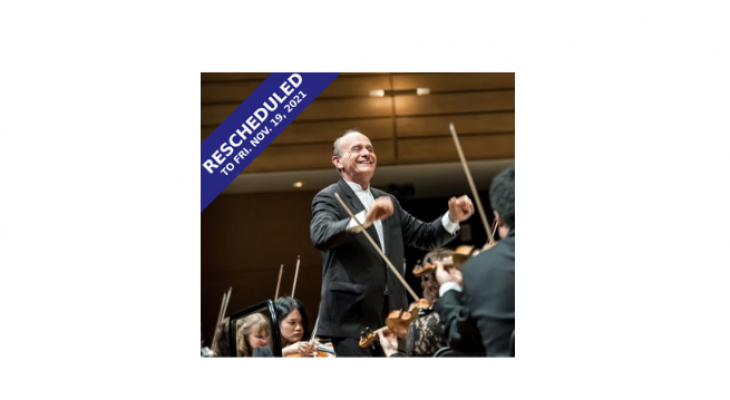 Apr
16
Gábor Takács-Nagy conducts the Royal Conservatory Orchestra
This concert has been rescheduled to Friday, November 19, 2021 at 8pm.
Gábor Takács-Nagy was founding member and leader of the acclaimed Takács Quartet, and is currently Music Director of Manchester Camerata, Principal Guest Conductor of the Budapest Festival Orchestra, and Principal Artistic Partner of the Irish Chamber Orchestra. He regularly guest conducts orchestras in Lyon, Monte Carlo, Bologna, Toulon, Malaysia, Budapest, and Detroit, amongst others. Gábor Takács-Nagy has been awarded honorary membership of the Royal Academy of Music in London, and is also a Professor at the Haute Ecole de Musique in Geneva.
Part of the Temerty Orchestral Program at The Glenn Gould School (GGS), the Royal Conservatory Orchestra (RCO) is widely regarded as an outstanding ensemble and one of the best training orchestras in North America. It consists of instrumental students in the undergraduate and graduate programs of The Glenn Gould School. Graduates of the RCO have joined the ranks of the greatest orchestras in the world. 
Program:
Ludwig van Beethoven: Overture from King Stephen, op. 117
Camille Saint-Saëns: Piano Concerto No. 5 in F Major, op. 103 ("Egyptian") (Thomas Torok, piano)
Aleksandr Borodin: "Polovtsian Dances" from Prince Igor
Zoltán Kodály: Háry János Suite
DETAILS
(416) 408-0208
273 Bloor Street West
TELUS Centre for Performance and Learning
Toronto ON M5S 1W2
Canada
DATE & TIME
-
[ Add to Calendar ]
2021-04-17 00:00:00
2021-04-17 02:30:00
Gábor Takács-Nagy conducts the Royal Conservatory Orchestra
<p><strong>This concert has been rescheduled to </strong><strong>Friday, November 19, 2021 at </strong><strong>8pm.</strong></p>
273 Bloor Street West
TELUS Centre for Performance and Learning
Toronto ON M5S 1W2
Canada
Bloor St. Culture Corridor
info@perceptible.com
America/Toronto
public
TICKETS