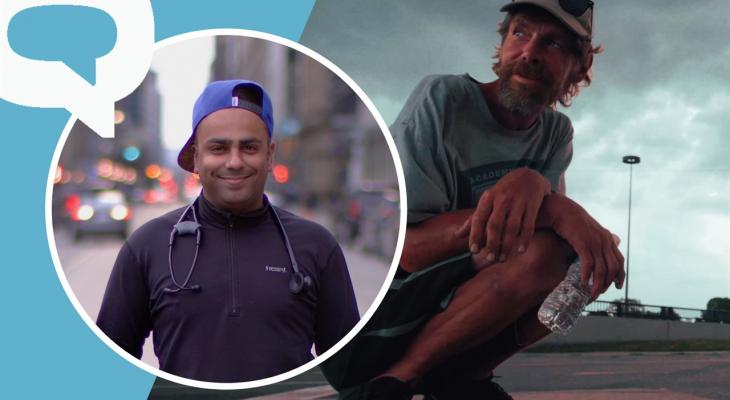 May
26
FREE Live Panel: Homelessness in the Time of COVID with Dr. Naheed Dosani // Hot Docs at Home
In conjunction with the Hot Docs at Home premiere screening of His Name is Ray, join us for a free illuminating live panel discussion on the realities currently facing Canada's homeless population, and what we get right—and wrong—when it comes to representing our vulnerably housed on screen. Reflecting on the powerful story of Ray—an ex-sailor living on the streets of Toronto—as a starting point, the panelists will discuss the intersecting factors that contribute to the homelessness crisis—including drug use, skyrocketing housing costs, economic disparity—and how the devastating impact of the pandemic has shed an urgent new light on these systemic issues. What can both citizens and storytellers do to help bridge the gap and care for society's unhoused with dignity and compassion?
Presented in partnership with Workman Arts
Featuring:

Dr. Naheed Dosani (Moderator) is a palliative care physician who cares for homeless and vulnerably housed individuals. He's a Lecturer at the University of Toronto & lead physician of Palliative Education And Care for the Homeless (PEACH). During COVID19, he has served as Medical Director for the Region of Peel's COVID19 Isolation/Housing Program.
Michael Del Monte (Panelist) is a documentary filmmaker and the Director of His Name Is Ray. His film Transformer won both the Audience Award and the Emerging Canadian Filmmaker Award at the 2018 Hot Docs Festival.

Akia Munga (they/them) (Panelist) is a harm reduction worker, activist and consultant.

Jesse Upton Crowe (they/them) (Panelist) is an affordable housing advocate, musician and hairstylist who works with the Encampment Support Network (ESN) in Toronto's Parkdale.
This is free event available to stream worldwide.
His Name is Ray is streaming on Hot Docs at Home until May 27. Become a Hot Docs Member to watch it for free.
Hot Docs Ted Rogers Cinema
DETAILS
Hot Docs Ted Rogers Cinema
(416) 637-3123
506 Bloor St West
Toronto ON M5S 1Y3
Canada
DATE & TIME
-
[ Add to Calendar ]
2021-05-26 23:30:00
2021-05-27 00:30:00
FREE Live Panel: Homelessness in the Time of COVID with Dr. Naheed Dosani // Hot Docs at Home
<p>In conjunction with the Hot Docs at Home premiere screening of <em><a href="https://boxoffice.hotdocs.ca/websales/pages/info.aspx?evtinfo=142793~fff311b7-cdad-4e14-9ae4-a9905e1b9cb0"><strong>His Name is Ray</strong></a></em>, join us for a free illuminating live panel discussion on the realities currently facing Canada's homeless population, and what we get right—and wrong—when it comes to representing our vulnerably housed on screen.</p>
506 Bloor St West
Toronto ON M5S 1Y3
Canada
Bloor St. Culture Corridor
info@perceptible.com
America/Toronto
public