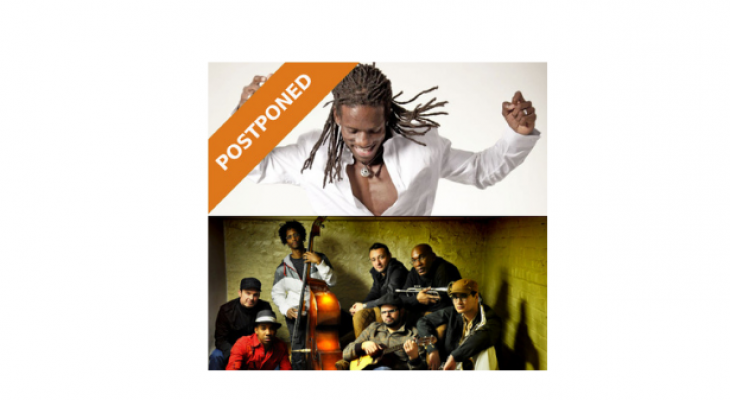 Jun
04
Kobo Town and Wesli
This performance has been postponed. New date to be announced. LINEUP CHANGE: Kobo Town has replaced Mokoomba. This online concert was originally scheduled for Wednesday, April 14, 2021.
Montreal-based Haitian musician Wesli won the 2019 Juno Award for Best World Music Album.
Founded and fronted by émigré Trinidadian songwriter Drew Gonsalves, Kobo Town's music has been variously described as "an intoxicating blend of lilting calypsonian wit, dancehall reggae and trombone-heavy brass" (Guardian) and a "unique, transnational composite of rhythm, poetry and activist journalism" (Exclaim!).
DETAILS
(416) 408-0208
273 Bloor Street West
TELUS Centre for Performance and Learning
Toronto ON M5S 1W2
Canada
DATE & TIME
-
[ Add to Calendar ]
2021-06-05 00:00:00
2021-06-05 02:00:00
Kobo Town and Wesli
<h4><em><strong>This performance has been postponed. New date to be announced. LINEUP CHANGE: Kobo Town has replaced Mokoomba.</strong></em> <em><strong>This online concert was originally scheduled for Wednesday, April 14, 2021.</strong></em></h4> <p>Montreal-based Haitian musician Wesli won the 2019 Juno Award for Best World Music Album.</p>
273 Bloor Street West
TELUS Centre for Performance and Learning
Toronto ON M5S 1W2
Canada
Bloor St. Culture Corridor
info@perceptible.com
America/Toronto
public
TICKETS