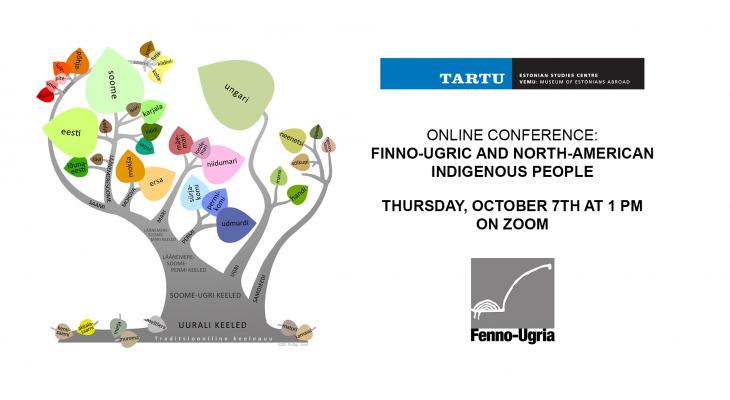 Oct
07
Online conference: Finno-Ugric and North-American Indigenous People
This fall, VEMU is organizing a series of events dedicated to investigating the experiential commonalities and differences between the Finno-Ugric peoples and the Indigenous peoples of North America. From September to December, VEMU will host lectures and film evenings dedicated to the Finno-Ugric peoples. 
On Thursday, October 7th at 1pm (EDT), will be an international virtual conference discussing both universal similarities and also clear differences in the experiences of Indigenous peoples around the world who have suffered under colonialism. 
How do we grapple with the devastating history of these (small) populations? How do we keep these languages, cultures and traditions from disappearing? What are some successful survival strategies? What is the source of strength of indigenous peoples? These, among other questions, will be explored. All are welcome to attend.
In English, on Zoom: 
https://us06web.zoom.us/j/81717188536
Meeting ID: 817 1718 8536
***
In collaboration with Fenno-Ugria (Estonia) and E. Tampõld Chair of Estonian Studies at University of Toronto
DETAILS
DATE & TIME
-
[ Add to Calendar ]
2021-10-07 17:00:00
2021-10-07 19:00:00
Online conference: Finno-Ugric and North-American Indigenous People
<p>This fall, VEMU is organizing a series of events dedicated to investigating the experiential commonalities and differences between the Finno-Ugric peoples and the Indigenous peoples of North America. From September to December, VEMU will host lectures and film evenings dedicated to the Finno-Ugric peoples. </p> <p><strong>On Thursday, October 7th at 1pm (EDT), will be an international virtual conference discussing both universal similarities and also clear differences in the experiences of Indigenous peoples around the world who have suffered under colonialism. </strong></p>
Bloor St. Culture Corridor
info@perceptible.com
America/Toronto
public