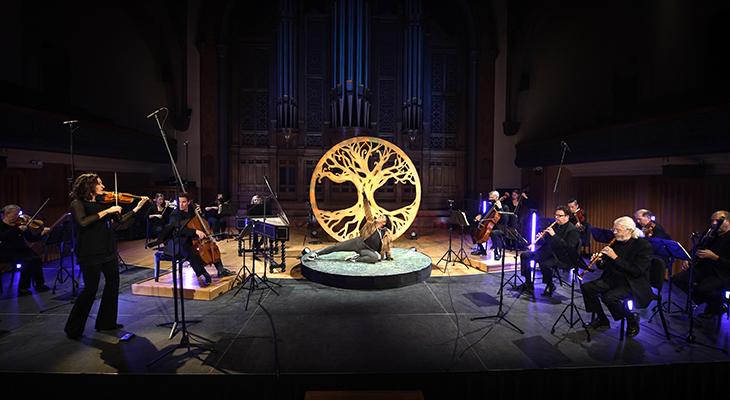 Feb
17
The Gull, the Raccoon, and the Last Maple
A powerful new digital concert for the whole family, inspired by the need for collaboration in the face of climate change.
Online Premiere
Thursday, February 17, 2022 at 8pm ET
Tickets only $10, plus $1 service fee. Perfect for the whole family!
This concert streams from February 17, 2022 at 8pm ET to February 21, 2022 at 7:59pm ET
Timely and optimistic, Tafelmusik's latest commission is an environmentally themed digital concert for all ages.  A contemporary fable for baroque orchestra and narrator, The Gull, the Raccoon, and the Last Maple pits two of Nature's most persistent scavengers against each other as they engage in a battle of wits over the Last Maple and the last slip of dry land unclaimed by the encroaching floods. As the swirling waters rise and drenching storms threaten, the three must combine forces, harnessing their resourcefulness and adaptability—or perish.
The creative team behind The Last Maple includes music director Elisa Citterio, actress Amanda Cordner (Slo Pitch and Baroness Von Sketch Show), composer Abigail Richardson-Schulte (The Hockey Sweater), playwright and librettist Alexis Diamond (Making Light), and director Jordan Laffrenier (Then They Fight Theatre).
Balancing wit, optimism, and pathos, Cordner and Tafelmusik offer a performance that will inspire you and your family to join the collective effort towards conserving the health of our planet.
Composed by Abigail Richardson-Schulte
Story and text by Alexis Diamond
Commissioned by Tafelmusik
Tafelmusik Baroque Orchestra directed by Elisa Citterio
Amanda Cordner narrator
Jordan Laffrenier stage director
Alyssa Martin Assistant Director
Glenn Davidson Set Designer
Fox Procenko Lighting Designer
Jennifer Goodman Costume Designer
Presenting Sponsor
BMO Financial Group
With Support From
Anne-Marie H. Applin Foundation
Anita & Leon Lapidus
Dermot & Tami Nolan
Abigail Richardson-Schulte
Bob & Peggy Savage
Tafelmusik Baroque Orchestra and Chamber Choir
DETAILS
Tafelmusik Baroque Orchestra and Chamber Choir
(416) 964-6337
427 Bloor Street West
Toronto ON M5S 1X7
Canada
DATE & TIME
-
[ Add to Calendar ]
2022-02-18 01:00:00
2022-02-22 00:59:00
The Gull, the Raccoon, and the Last Maple
<p><strong>A powerful new digital concert for the whole family, inspired by the need for collaboration in the face of climate change.</strong></p> <p> </p> <p><strong>Online Premiere</strong></p> <ul><li>Thursday, February 17, 2022 at 8pm ET</li> </ul><p>Tickets only $10, plus $1 service fee. Perfect for the whole family!</p> <p><strong>This concert streams from February 17, 2022 at 8pm ET to February 21, 2022 at 7:59pm ET</strong></p> <p> </p>
427 Bloor Street West
Toronto ON M5S 1X7
Canada
Bloor St. Culture Corridor
info@perceptible.com
America/Toronto
public