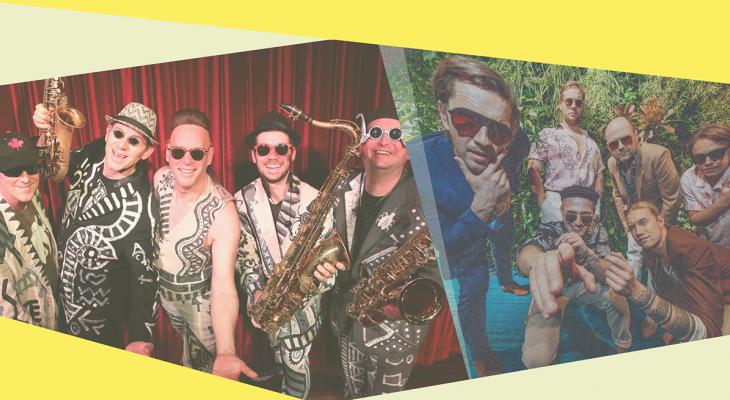 Sep
21
Tartu College's 50th (+2) Anniversary Celebrations!
It's official: we are finally able to celebrate Tartu College's momentous 50th birthday! 
With 5 days of programming, we're calling it Tartu 50+2. This event is a chance to get together and raise a glass to Tartu College!
The celebration kicks off on Wednesday, September 21st when the Estonian funk music group Lexsoul Dancemachine will conquer Toronto, on the roof of a party bus that starts its journey at 7pm from Tartu College, then moves to Kensington Market, and finally to Queen West. All three performances will be 30 minutes long and the party bus will also accommodate the 10 lucky ones who win the the lottery, about which more information will be shared soon.
On Thursday, September 22 at 8 pm, The Cotton Factory in Hamilton will host a party called "Funk at the Factory". Nezqwik from Hamilton will be opening for Lexsoul Dancemachine. DJs Henrik Ehte (Estonia) and B Bad (Hamilton) will also perform. You can participate in a dance competition and enjoy art and, of course, dance! Tickets for $25/$20 will go on sale soon on Eventbrite.
Friday night (September 23) will be a concert & dance party with Estonia's #1 funk band Lexsoul Dancemachine at the Axis Club. As you might know, Lexsoul is fronted by Robert Linna, Estonian icon Ivo Linna's son. They'll be joined by Toronto legends the Shuffle Demons, famous for their hit Spadina Bus. Vaiko Eplik has collected songs from the Estonian diaspora and will perform some of his favourites as the host of the evening. Buy your tickets for $25 here!
And there's more! On Saturday, September 24, 3pm we gather at Tartu College to hear internationally renowned textile artist Anu Raud as part of the Vello Soots memorial lecture. Our anniversary exhibit, "Our Tartu" will be opened, followed by a reception. (free event)
Sunday will close the celebration weekend with a Tartu College documentary, "Our Tartu" premiere that walks us all down the memory lane together. 3pm at Tartu College hall. (free event)
DETAILS
DATE & TIME
-
[ Add to Calendar ]
2022-09-21 23:00:00
2022-09-25 19:00:00
Tartu College's 50th (+2) Anniversary Celebrations!
<p><strong>It's official: we are finally able to celebrate Tartu College's momentous 50th birthday! </strong></p> <p>With 5 days of programming, we're calling it <strong>Tartu 50+2</strong>. This event is a chance to get together and raise a glass to Tartu College!</p>
Bloor St. Culture Corridor
info@perceptible.com
America/Toronto
public