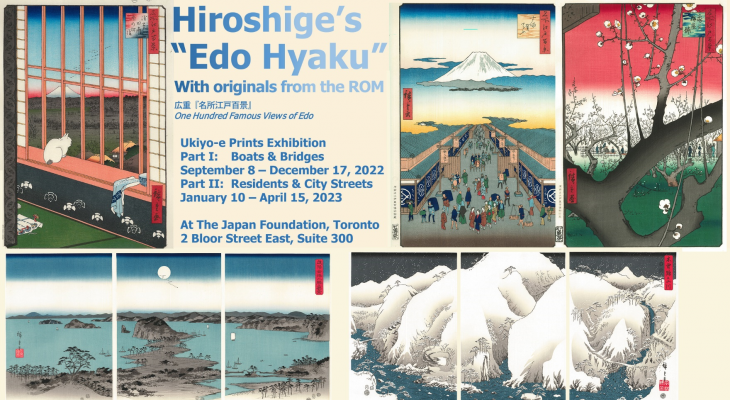 Jan
10
Hiroshige's "Edo Hyaku" with Originals from the ROM
"Edo Hyaku", One Hundred Famous Views of Edo 名所江戸百景 (Meisho Edo Hyakkei) is a series of over one hundred woodblock prints designed by Hiroshige (1797–1858), which began to be published in 1856 and was completed in 1859 after Hiroshige's death. 
We are welcoming original pieces of the Edo Hundred series from the Royal Ontario Museum. This set of Edo Hyaku prints arrived for public attention relatively recently in 2002, and was re-discovered as an album or a form of folded book bound by pasting prints together edge-to-edge. Although the edges of the prints are missing by the binding, and the album suffered worm damage, the colour condition of this set is remarkable. Being away from lights, the prints here maintained their vivid colours. For the first time the prints are displayed publicly and individually at The Japan Foundation, Toronto after going through conservation procedures such as separation of the pages, cleaning, and repair.
In addition to over twenty original pieces from the ROM in each period, we have reproductions, which some people rather call re-conceived prints. These non-originals are not offset prints from photography, but are re-carved and hand-printed in the traditional method based on historical research.
The Japan Foundation, Toronto
DETAILS
The Japan Foundation, Toronto
(416) 966-1600
2 Bloor Street East
Suite 300
Toronto ON M4W 1A8
Canada
DATE & TIME
-
[ Add to Calendar ]
2023-01-10 16:30:00
2023-04-15 20:30:00
Hiroshige's "Edo Hyaku" with Originals from the ROM
<p><strong>"<em>Edo Hyaku", One Hundred Famous Views of Edo</em></strong> 名所江戸百景 (Meisho Edo Hyakkei) is a series of over one hundred woodblock prints designed by Hiroshige (1797–1858), which began to be published in 1856 and was completed in 1859 after Hiroshige's death. </p>
2 Bloor Street East
Suite 300
Toronto ON M4W 1A8
Canada
Bloor St. Culture Corridor
info@perceptible.com
America/Toronto
public