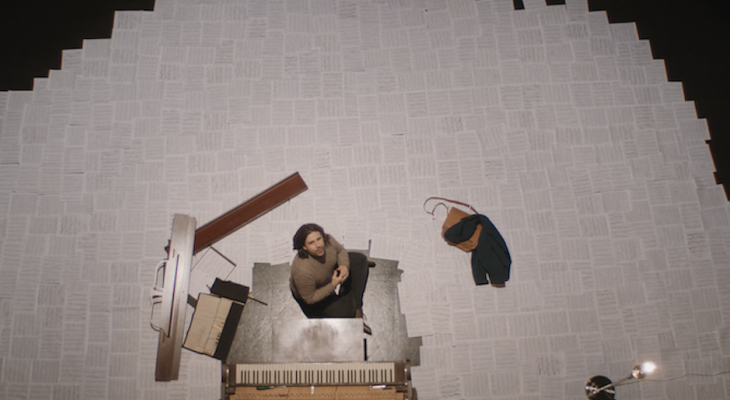 Mar
19
Lessons in Temperament
Adapted from the award-winning live theatrical memoir, Lessons in Temperament is an innovative documentary-dramatic hybrid that uses piano tuning as a powerful storytelling device to destigmatize and humanize mental illness. The film examines the deeply personal narrative of musician James Smith and his three older brothers' (Jason, Josh and Joey) existence on the mental health spectrum, while refracting their story through the lens of the COVID-19 pandemic.
As a professional musician and theatre artist, a few years ago James taught himself how to tune pianos as an additional source of income between gigs. Through pursuing this work, he discovered something even more valuable—the perfect metaphor through which to process the complex web of neurodiversities within his family. Throughout the film, James gives the audience a crash-course on the art and science of piano tuning and the principle of equal temperament, while using it as a framework for making sense of and peace with the idea of a distempered mind. Shot amidst the challenging realities of COVID-19, Lessons in Temperament offers an urgent and cathartic story that engages with the new overwhelming forces of isolation catalyzed by the pandemic.
Join director Mitchell Cushman and writer/performer James Smith for a post-screening Q&A.
Co-presented with Outside the March.
Tickets: $15 (Members from $10) *10% of ticket proceeds will be donated to Stella's Place.
Hot Docs Ted Rogers Cinema
DETAILS
Hot Docs Ted Rogers Cinema
(416) 637-3123
506 Bloor St West
Toronto ON M5S 1Y3
Canada
DATE & TIME
-
[ Add to Calendar ]
2023-03-19 20:00:00
2023-03-19 22:00:00
Lessons in Temperament
<p>Adapted from the award-winning live theatrical memoir, <em>Lessons in Temperament</em> is an innovative documentary-dramatic hybrid that uses piano tuning as a powerful storytelling device to destigmatize and humanize mental illness. The film examines the deeply personal narrative of musician James Smith and his three older brothers' (Jason, Josh and Joey) existence on the mental health spectrum, while refracting their story through the lens of the COVID-19 pandemic.</p>
506 Bloor St West
Toronto ON M5S 1Y3
Canada
Bloor St. Culture Corridor
info@perceptible.com
America/Toronto
public
TICKETS
Member Discount
Under $30