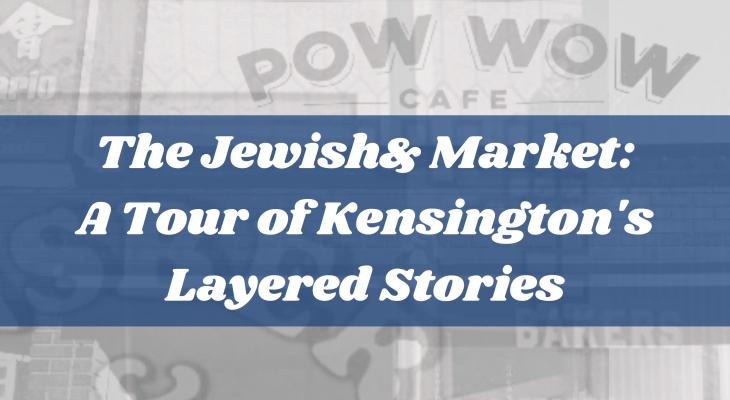 Jun
04
Jewish& In The Market: A Tour Of Kensington's Layered Stories
Peel back the layers of Kensington's trendy bars and enter a world of pushcarts and pamphlets, bagels and bushel baskets, delicatessens and clothing outlets, when Kensington was home to a vibrant, bustling Jewish community and Spadina Avenue was its "cosmic spine." We'll walk through time, recapturing what novelist Matt Cohen called "an infinity of delectable possibilities, an adolescent theme park throbbing with folk music… protest marches, idealists of all ages…" as Kensington's Jewish community connected with the broader city and gave way to new waves of immigrants and new countercultures.
We are committed to ensuring our programming is accessible to anybody who wishes to attend. Please email LaurenS@mnjcc.org with any accessibility questions or requests and we will work together to find ways for you to join us. This program is ideal for those 9 years and older.
About Jewish&
Jewish& at the Miles Nadal JCC gathers multi-faith, multi-cultural & mixed heritage folks & families for Jewish exploration, education & celebration.
Supported by Mazon Canada and the Kolel Legacy Fund at the Jewish Foundation
DETAILS
DATE & TIME
-
[ Add to Calendar ]
2023-06-04 14:00:00
2023-06-04 16:00:00
Jewish& In The Market: A Tour Of Kensington's Layered Stories
<p>Peel back the layers of Kensington's trendy bars and enter a world of pushcarts and pamphlets, bagels and bushel baskets, delicatessens and clothing outlets, when Kensington was home to a vibrant, bustling Jewish community and Spadina Avenue was its "cosmic spine." We'll walk through time, recapturing what novelist Matt Cohen called "an infinity of delectable possibilities, an adolescent theme park throbbing with folk music… protest marches, idealists of all ages…" as Kensington's Jewish community connected with the broader city and gave way to new waves of immigrants and new counterculture</p>
Bloor St. Culture Corridor
info@perceptible.com
America/Toronto
public
TICKETS