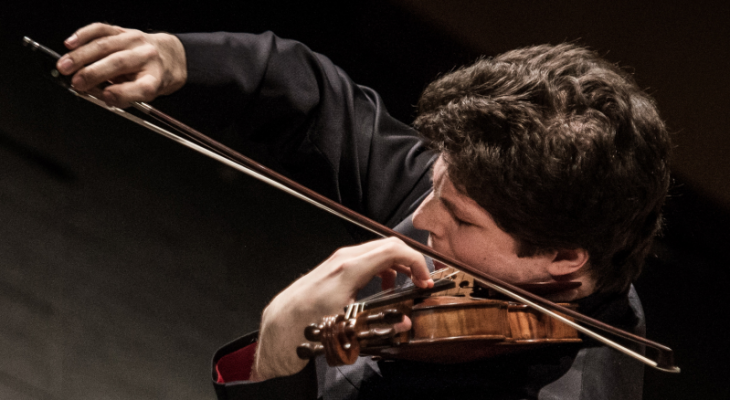 Oct
13
Augustin Hadelich, violin, with Orion Weiss, piano
Grammy Award-winning violinist Augustin Hadelich has performed with every major orchestra in the US, many on numerous occasions, as well as an ever-growing number of major orchestras in the UK, Europe, and the Far East. "The essence of Hadelich's playing is beauty: reveling in the myriad ways of making a phrase come alive on the violin, delivering the musical message with no technical impediments whatsoever, and thereby revealing something from a planet beyond ours." (The Washington Post) Hadelich's appearances as a soloist include guest engagements with the most celebrated ensembles in the world, including the Academy of St. Martin in the Fields, Berlin Philharmonic, Boston Symphony Orchestra, Chicago Symphony Orchestra, New York Philharmonic, Mozarteum Orchestra Salzburg, NHK Symphony Orchestra (Tokyo), Oslo Philharmonic, and Philadelphia Orchestra, among others.
One of the most sought-after soloists and chamber music collaborators of his generation, Orion Weiss is widely regarded as a "brilliant pianist" (The New York Times) with "powerful technique and exceptional insight" (The Washington Post). With a warmth to his playing that outwardly reflects his engaging personality, Weiss has dazzled audiences with his passionate, lush sound and performed with dozens of orchestras in North America, including the Chicago Symphony, Boston Symphony, Los Angeles Philharmonic, and New York Philharmonic.
Program: Ludwig van Beethoven: Violin Sonata No. 10 in G Major, op. 96 John Adams: Road Movies
Daniel Bernard Roumain: Filter Sergei Prokofiev: Violin Sonata No. 1 in F Minor, op. 80
Amy Beach: Romance, op.23
BECOME A ROYAL SUBSCRIBER! Choose any 4 or more concerts in the 2023.24 Concert Season to create your ideal subscription. You will get the best available seats PLUS discounted ticket prices AND enjoy Royal Subscriber benefits!
DETAILS
(416) 408-0208
273 Bloor Street West
TELUS Centre for Performance and Learning
Toronto ON M5S 1W2
Canada
DATE & TIME
-
[ Add to Calendar ]
2023-10-14 00:00:00
2023-10-14 02:00:00
Augustin Hadelich, violin, with Orion Weiss, piano
<p>Grammy Award-winning violinist Augustin Hadelich has performed with every major orchestra in the US, many on numerous occasions, as well as an ever-growing number of major orchestras in the UK, Europe, and the Far East.</p>
273 Bloor Street West
TELUS Centre for Performance and Learning
Toronto ON M5S 1W2
Canada
Bloor St. Culture Corridor
info@perceptible.com
America/Toronto
public
TICKETS