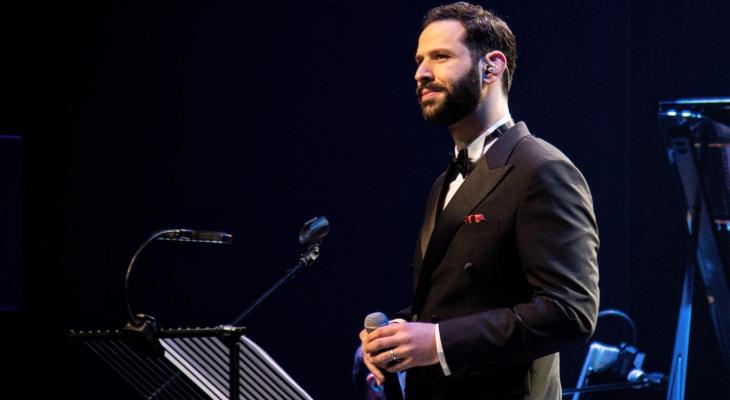 Oct
20
Omar Kamal: Sway with Me
Performing with a Toronto all-star big band featuring London based pianist Rob Barron, multiple Juno Award-winners Allison Au, Michael Occhipinti, Roberto Occhipinti, and more. Singer, composer, and producer Omar Kamal brings together a stunning repertoire of emotional hits for one enchanting evening of standards at Koerner Hall. The pure power of his voice can be felt in his eclectic catalogue and captivating performances, from Sinatra's croon and to Joe William's swing. 
Omar Kamal has captivated audiences worldwide with his unique blend of jazz, classical, Arabic, and oriental music. His debut album Serenade, produced by Dave Pierce (Michael Bublé, The Frank Sinatra Estate) and Bob Rock (Metallica, Jon Bon Jovi, Aerosmith) in 2017, showcased his versatility and talent as a vocalist and musician. The title track of his second album Show Me the Light reached the UK top 10 chart positions and was followed by an international tour that featured sold out shows at Dubai Opera and Ronnie Scott's in London. 
This evening is dedicated to the memory of Tony Bennett.
Presented in partnership with the Canadian Arabic Orchestra
Omar Kamal, vocals
Michael Occhipinti, guitar
Allison Au, alto saxophone, flute & clarinet
Tara Davidson, tenor saxophone, clarinet & flute
Alexander Brown, trumpet
Andrew McAnsh, trumpet
Karl Silveira, trombone
Rob Barron, piano & Music Director
Roberto Occhipinti, bass
Sanah Kadoura, drums
String students from The Glenn Gould School
Kyung Ah Oh, violin
Grace Lau, violin
Hee-Soo Yoon, violin
Roman Nykorovych, violin
Tristan Macaggi, viola
Shyler Macaggi, viola
Mansur Kadirov, cello
Lexie Krakowski, cello
Aidan Pasquale, bass
BECOME A ROYAL SUBSCRIBER! Choose any 4 or more concerts in the 2023.24 Concert Season to create your ideal subscription. You will get the best available seats PLUS discounted ticket prices AND enjoy Royal Subscriber benefits!
DETAILS
(416) 408-0208
273 Bloor Street West
TELUS Centre for Performance and Learning
Toronto ON M5S 1W2
Canada
DATE & TIME
-
[ Add to Calendar ]
2023-10-20 23:30:00
2023-10-21 01:30:00
Omar Kamal: Sway with Me
<p>Performing with a Toronto all-star big band featuring London based pianist Rob Barron, multiple Juno Award-winners Allison Au, Michael Occhipinti, Roberto Occhipinti, and more. Singer, composer, and producer Omar Kamal brings together a stunning repertoire of emotional hits for one enchanting evening of standards at Koerner Hall. The pure power of his voice can be felt in his eclectic catalogue and captivating performances, from Sinatra's croon and to Joe William's swing. </p>
273 Bloor Street West
TELUS Centre for Performance and Learning
Toronto ON M5S 1W2
Canada
Bloor St. Culture Corridor
info@perceptible.com
America/Toronto
public
TICKETS